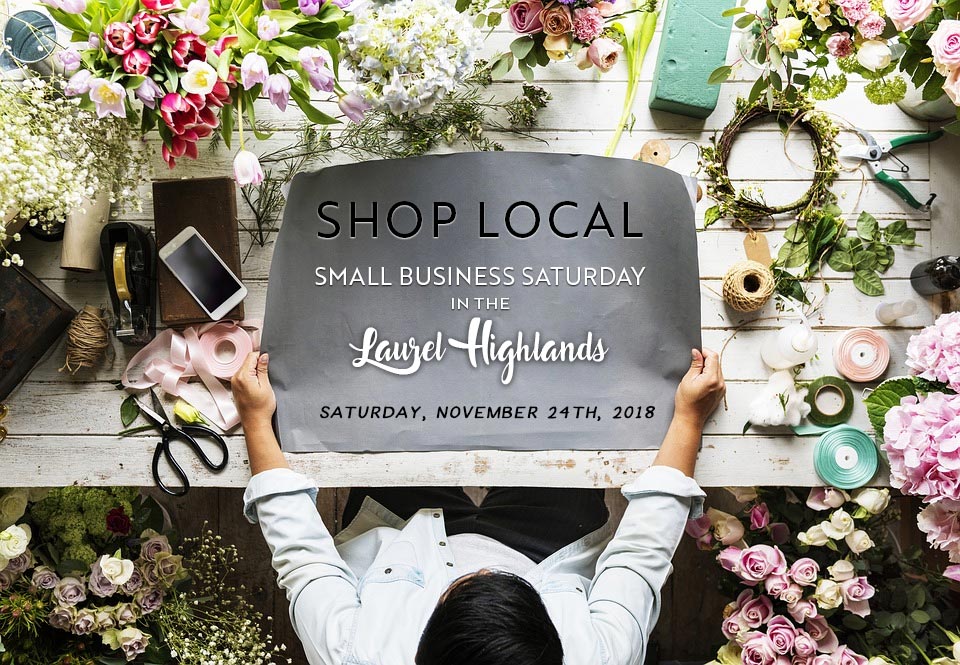 November is a time to give thanks. Thanks for all that we have in our lives; for the people and things that help make up our unique existence in the world.
We are blessed to live in the Laurel Highlands – a place where beauty knows no bounds and community is like family.
A major aspect of community is the specialty shops and eateries that make a town all that it is.
"2018 marks the MLCC's 20th anniversary as an advocate for promoting local/small business in the Laurel Highlands," said Kris Enberg, Executive Director of the MLCC. "We have gotten to know so many great people through the years that get up and work hard each day to better serve our community. These small businesses create our jobs, pay our taxes that are used to support our public schools, parks, roads, etc., provide better customer service, but mostly they offer us a sense of community."
Having a shop owner who knows your name (and maybe even your mother's and her mother's) and being offered expertly hand-crafted products or uniquely chosen inventory is part of the specialness of small town shopping.
From a freshly baked pastry, to whimsical décor, to locally made wine and spirits, small businesses exemplify a tight knit community. Local establishments are the character of a neighborhood, a community. They bring originality and variety to a world overpopulated with cookie cutter, big box stores.
With that in mind, we ask that you support the Small Business Saturday initiative and shop locally on November 24.
Held the Saturday after Thanksgiving, Small Business Saturday was launched in 2011 by American Express in response to a sluggish economy. The event was created as a balance to Black Friday, the biggest retail shopping day of the year.
The Small Business Saturday holiday shopping tradition is gaining momentum, and with good reason. There are many wonderful benefits to supporting the Shop Small Movement.
Celebrating the uniqueness of our community, purchasing quality items built to last, and supporting local jobs are only a few of the great reason to shop locally.
When customers frequent a small shop, they benefit from the expertise of an owner who has a vested interest in their product or service. They receive personalized service from someone who truly takes the time to understand what they are looking for.

"When you know the people behind the business you enjoy a connection you would not otherwise have," said Kirsten Ritenour, owner of Champion Lawn Ornaments & Gifts and member of the Mountain Laurel Chamber of Commerce. "This personal investment isn't present when buying from a chain store. Buying local means more because the owner knows his customers and products."
Choosing to support an independent business keeps more money in the local economy. According to the Civic Economics – Andersonville Study of Retail Economics, for every $100 spent at locally owned businesses, $68 will stay in the community verses $43 when you shop at a national chain store.
Shopping locally provides consumers healthier products at convenient locations. Additionally, it is benefiting the environment by eliminating packing, shipping materials and pollutants from driving far to make a purchase.
Kris encourages readers to be proud of our local business community and to join us on Small Business Saturday by making a purchase at a local shop and dining at a local restaurant.
"Let's do it out of respect for their hard work and energy and use this opportunity to thank them for the many times they are there for us donating to one of our many causes," she said. "Small businesses add diversity, why bypass them for a $10 item at a box store when you can give a unique gift that your loved ones will cherish. The MLCC supports and thanks small businesses!"
As shopping catches on in communities everywhere, Small Business Saturday goes from a cause to a day of community celebration. As a consumer, you have a choice of where to purchase your products and spend your hard earned dollars. When you support local establishments, it strengthens community and instills a sense of pride and togetherness.
"I am proud to be a part of this community and to have the pleasure of working and visiting our local businesses," said Brit Grimes, Mayor of Donegal Borough. "There are a lot of businesses here that will take care of your everyday needs, and there is such a diverse group of shops, restaurants, and service providers that you don't need to look any further." Background values and morals to achieve the high quality of service is what sets small businesses in the Laurel Highlands apart from the chain department stores, Grimes said.
We hope you will join us in supporting local businesses in the Laurel Highlands on November 24 and all year round. It is a wonderful way to invest in your community, your neighbors and friends.
The MLCC wishes a prosperous holiday shopping season to all its members and other local businesses.