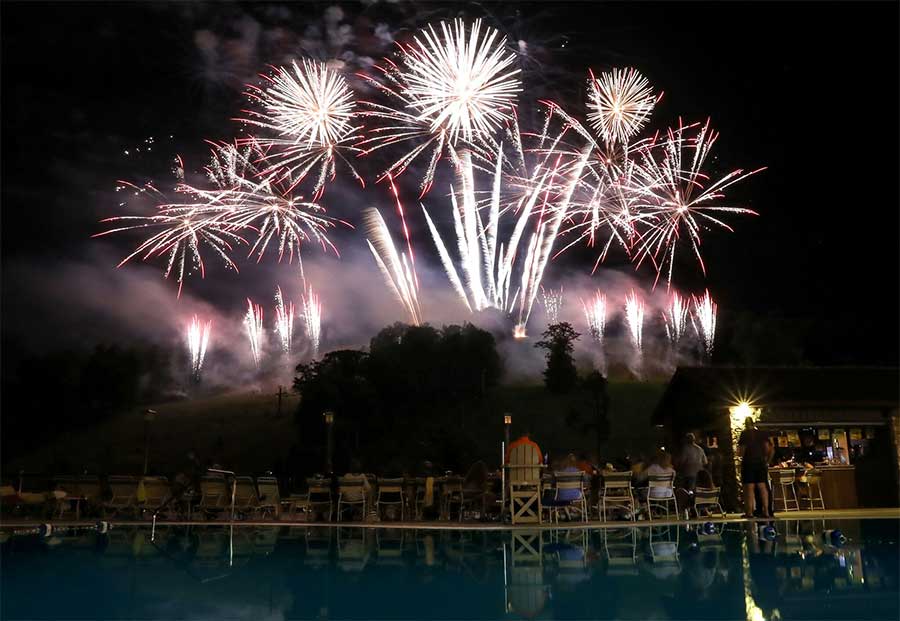 Seven Springs Mountain Resort presents live music, family adventure, fireworks and much more this summer with a full schedule of exciting events and festivals!
"We are very excited for our 2019 Summer Festival Season," said Alex Moser, Director of Marketing. "Our events are unique and as a result they've become long-standing traditions for many of our guests. The setting is second to none and our team is always working to create exciting new opportunities to experience and enjoy the Laurel Highlands."
Beyond exciting festivals and events, the resort's full selection of summer adventures will be open all season including the All-Day Adventure Pass offering unlimited access to more than 10 adventures including the Alpine Slide, Summer Tubing and Alpine Tower. Plus, guests can go flying through and above the treetops on the Laurel Ridgeline Zipline Tour, take a shot at Sporting Clays, play a round of mountaintop golf and much more.
What can you expect throughout this year's Summer Festival season?
Memorial Day Weekend (5/24 – 5/27)
Kids' Mud on the Mountain Run, Country Legends Live Outdoor Concert and more!
Fireworks & Food Trucks Festival (6/15)
15 Unique Food Trucks and a Massive Fireworks Display!
Pennsylvania Beer Festival (6/22 – 6/23)
PA's Best Beers All in One Place!
The 10th Annual Rib & Wing Festival (8/2 – 8/4)
A Spicy, Savory, Rockin' Good Time!
The 27th Annual Wine Festival (8/23 – 8/25)
A Celebration of Pennsylvania Wines!
Spend the Night with Special Event Lodging Packages
Seven Springs offers a wide variety of lodging options from comfortable guest rooms in the newlyrenovated hotel, to secluded and rustic cottages, to luxurious mountaintop condos and townhomes.
Plus, guests can take advantage of Special Event Lodging Packages to bundle the fun of festivals and events with the convenience of on-site lodging. Many packages include extra bonuses such as All-Day Adventure Passes, breakfast and more.
To learn more about lodging for events and festivals at Seven Springs, please visit: https://www.7springs.com/lodging/summer-packages/
About Seven Springs Mountain Resort
Seven Springs Mountain Resort, located in Seven Springs, Pa., is the perfect place for family vacations that create lifelong memories. Each year the family-friendly resort hosts more than one million overnight and day guests. Located within 200 miles of the major metropolitan areas of Pittsburgh, Baltimore, Cleveland and Washington D.C., Seven Springs is easily accessible from either exit 91 or 110 of the Pennsylvania Turnpike.
For more information on Seven Springs and the year-round lodging, dining and outdoor adventure options the resort offers, visit www.7springs.com or call (800) 452-2223.