2018 Chamber News
April 2018
A Message from Rob,
It is a pleasure to pass along reports of growth of businesses in the area served by the chamber when, in times past, this "mud season" brings only increases in rental vacancies, traffic flaggers, orange barrels and potholes. Most obvious is the start of the much-discussed deep mine, long lines of traffic on usually quite intersections and increased foot traffic at local establishments during right of way changes in the Route 31 construction corridor.
In house, the Chamber has an increase in membership and relocated to expanded offices on Route 31 in Jones Mills, being more central to the membership base and affording increased capacity for member services. The new members represent the diverse population served by the Chamber and are participating in increased member services, including our expanded website and promotions of new and existing member businesses.
With normal activity of this "mud season" overshadowed by the strong positive business environment, many thanks are extended to all in the membership of the chamber for the constant support of our businesses largely contributing to this time of prosperity in the counties served by local businesses and chamber members.
Robert W. King
MLCC Board Member
King Legal Group, LLC
---
March 2018
THINK SPRING!
Before we go any further, we would like to give a sincere and honest "thank you" to our townships supervisors and their crews, as well as to our PennDOT employees for keeping us safe this winter on the highways. You guys work long, hard hours to keep our roads clear in the worst conditions – thank you!
Due to what must have been "cabin fever", our bus trip to Wheeling Island is sold out for March 24th.
We are excited to announce we have relocated the chamber office. Our new physical address is 4111 State Route 31, Jones Mills PA 15646.
PLEASE MARK YOUR CALENDARS:
✔ The MLCC 19th Annual Golf Outing is scheduled for Friday, May 18th at Glengarry Golf Links in Latrobe.
✔ The MLCC Annual Ladies Day Bash is scheduled for Sunday, September 30th at the Chestnut Ridge Community Center (formerly the Donegal Area Community Center.) We are pleased to announce Rob King of King Legal Group as our Master of Ceremonies and Lunch & Dessert Sponsor. See ya there ladies!
✔ Please see next month's flyer for more information on our Quarterly Networking Luncheons.
——————–
A Message from Abe,
Dear Neighbors,
We have Chamber members who reside in Westmoreland, Fayette, and Somerset Counties! That means we are watching many political races this year! In fact, a special election will be held on March 13 to fill the remainder term of Congressman Tim Murphy, US District 18 pictured below. You may have seen the commercials for Representative Rick Saccone Republican and Connor Lamb Democrat. There are NATIONAL dollars coming into this race so make sure YOU cast your vote.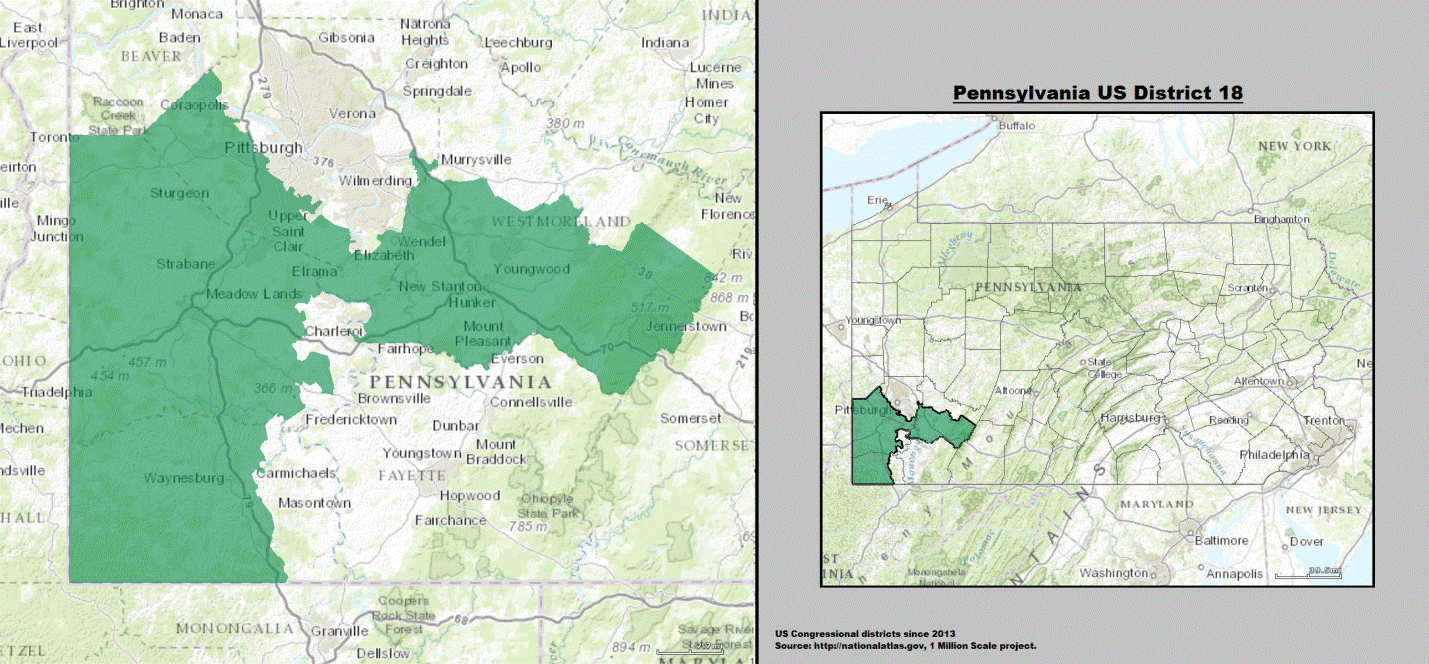 Another race that will impact some of our members is in District 9 to fill the shoes of Representative Bill Shuster. This one happens May 19. Check out the map below to see if you fall into this district!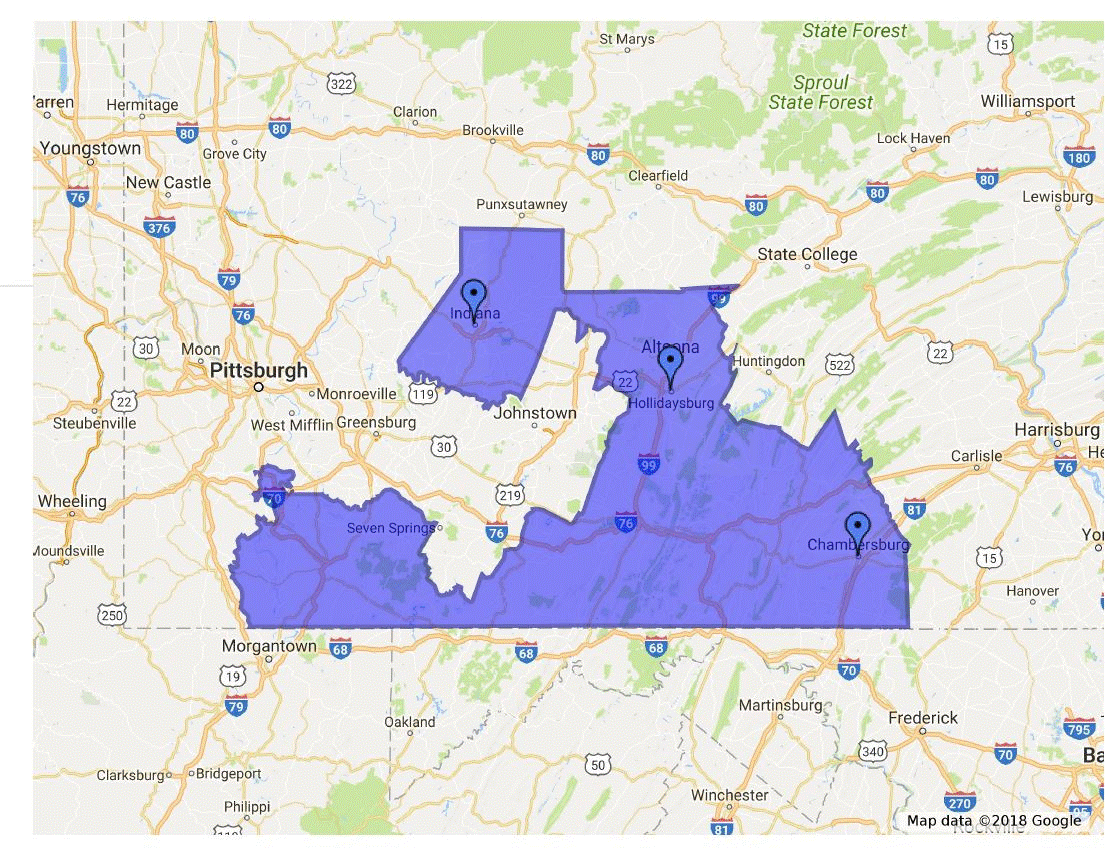 Here's a quick preview of the 2018 Primary Elections:
U.S. Senate
ALL 18 U.S. Congressional Seats (Special Election March 13)
Governor
25 PA Senate Seats
ALL 203 PA House Seats
What is most important is that YOUR VOICE MATTERS ONLY IF YOU VOTE!
Check out this site to find out WHO is your representative: http://www.legis.state.pa.us/
Check out this site to find where you vote: http://www.votespa.com/en-us
Check out this site to become registered to vote: http://www.votespa.com/en-us
Adrienne Abe Wagner, Associate Broker
BHHS The Preferred Realty
MLCC Board of Director & Governance Chair
---
February 2018
A Message from Jim,
I have the privilege to write this newsletter message and as I do, we're in the midst of another winter season and the snow is falling across the beautiful Laurel Highlands. I just returned from a trip, touring the southwestern part of the U.S. with a few of my family members. During the course of our travels, we covered six states and viewed some amazing landscapes including the Grand Canyon, and the Zion, Sequoia, and Death Valley National Parks. While each of these locations was unique and beautiful, it's good to be back in the Laurel Highlands — an area of the country that is just as stunning in its own way.
Time continues to pass at a seemingly ever rapid pace. The year 2017 is now in the rearview mirror and before we know it, God willing, we'll be saying the same thing about 2018. As we enter the second month of the New Year, on behalf of myself and the other members of the Board of Directors of the Mountain Laurel Chamber of Commerce (MLCC), I encourage each of you to be engaged in the activities of the MLCC. With that said, it's up to each one of us to make a positive difference and contribute to the local communities we have the honor and privilege to live and do business in. By taking a genuine interest in the activities of the MLCC, not only will you get the most out of your membership, you will play a role in ensuring that the MLCC effectively addresses the issues considered important to its members and the local business community.
On a more personal note, as some of you know, the Caddie Shak will be operated under the direct management of one of LHTC's affiliate companies — LHTC Entertainment, Inc. Along these lines, we are preparing for the 2018 season and I think you will be pleased with our continued efforts to grow and develop the facility. One of our primary goals is to draw more visitors to the area, which should have a positive impact on the local economy.
If you have any thoughts about how the MLCC can better serve you during the upcoming year, please don't hesitate to let me, Kris or another member of the Board know. Best wishes to you and yours for a healthy and prosperous New Year.
Sincerely,
James J. Kail
MLCC Board Member
LHTC Broadband CEO & President
---
January 2018
A Message from Kris,
On behalf of the Mountain Laurel Chamber of Commerce (MLCC), I would like to wish everyone a very happy, healthy and prosperous New Year. The weather channels are predicting lots of snow this winter – that means plenty of fun on the mountain this season!
It's truly amazing how quickly time flies by, and this past year has been no exception. As I reflect over the past 12 months, I am delighted with the range of activities our chamber was able to accomplish. 2017 was a good year for the MLCC and surrounding communities. We had, and will continue to have, exciting new developments (such as LaurelHighlandsWeddings.com), and a sense of things happening, especially with our highway infrastructure and the growth of new business.
2018 is shaping up to be just as exciting!
Stay tuned for more details on the below upcoming events for the MLCC:
Join us for a ribbon cutting ceremony at Life's Promise Personal Care Home on January 13th at 2053 State Route 711, Ligonier, PA 15658
By the time we crawl around to March, we will all be itching to get out. We have the cure – Wheeling Island "Cabin Fever" Bus Trip. Stay tuned in our monthly flyer or on Facebook for more details soon!
One of the biggest events of the year, our 19th Annual Golf Outing, will be held in May at Glengarry Golf Links in Latrobe. You don't want to miss this fun-filled event (or the advertising opportunities)!
We will release our new 48-page Membership Directory in July. Contact the MLCC office for early bird discounts on advertising.
Ladies – plan ahead for this year's Ladies Day Bash and don't miss a chance to win amazing prizes! Check out our Facebook page, the monthly flyer, or MLChamber.com for upcoming details about this fun event in October.
A chance to mingle & network at our Annual Dinner Celebration will be held in November at the beautiful Seven Springs Mountain Resort. We can't wait to see everyone there!
Don't forget! Our monthly MLCC flyer has valuable information on highway updates, local business and community meetings & events. This is a one-of-a-kind publication that ties our portion of Westmoreland, Fayette and Somerset Counties together. I encourage local churches, fire departments and clubs & organizations to build awareness to their events by utilizing this piece to reach even more members of the community.
Remember, this publication reaches over 8,000 households each & every month, with additional copies placed at area businesses for our visitors to enjoy.
Finally, I am proud to introduce the MLCC 2018 Executive Committee and Board of Directors.
Executive Committee:
President
Shari Bukovac (Shari Bukovac Bookkeeping)
Vice President
Rob King (Attorney at Law)
Secretary
Tammy Shawley (Seven Springs Mountain Resort)
Treasurer
Jim Kail (LHTC Broadband)
Directors:
Ken Firestone (Firestone Insurance Agency)
Tom Guiher (Living Treasures Wild Animal Park)
Brit Grimes (Mayor, Donegal Borough)
Mark Hughes (Hughes Physical Therapy)
Hank Parke (Somerset Trust Company)
Tim Pisula (LHTC Broadband)
Barb Skinner (Christian Family & Children's Center)
Jamie Stilley (Amerikohl Mining Inc.)
Adrianne Wagner (Berkshire Hathaway the Preferred Realty)
I have had the pleasure of working with many of these dedicated individuals for the last 18 years and am blessed to have the professionalism and integrity they have given, and continue to give, to our organization.
As we enter 2018, let us all have a prosperous and successful year ahead!
Keep up with everything going on in the community and at the MLCC on Facebook.com/MountainLaurelChamber.
Happy New Year!
Kris Enberg
MLCC Executive Director