2018 Chamber News
December 2018
A Message from Shari,
On November 8, in a perfect setting at The Alpine Room at Seven Springs Mountain Resort, we celebrated the 20th anniversary of the Mountain Laurel Chamber of Commerce. Can you believe that this organization, which started in 1998 with a handful of local people, has grown into a 136-member group? Much of the success of the MLCC is due to the business owners, who had a goal of bringing businesses and community together. One of these business owners, who has been with the Chamber for a long while, is Joe Sarnelli. Joe was the recipient of the 2018 Community Service Award. Joe was genuinely surprised when he was presented with the plaque honoring him. Joe's dedication, generosity and hard work have been instrumental in the success of the Chamber and the community flourishing. A special thanks to Seven Springs Mountain Resort for hosting us and Kris and Stefanie for organizing such a special event. Please see the articles and photos throughout the flyer showcasing the event.
Talking about the Chamber's longevity, for 19 of the 20 years of the Chamber's existence, Kris Enberg, has been the executive director. Her tenacity, enthusiasm and drive have been the spearhead of the group over the years. I personally want to thank Kris for all that she does, she has become a special friend. I am proud to be the president of an organization that has done so much for our local businesses and communities.
And here we are in December, can you believe it? Another Christmas season, YIPPIE!!! Christmas is one of my favorites, especially with little ones around. It's a time to enjoy family and friends, reflect on years gone by and celebrate the birth of Christ. What memories I have of wonderful Christmas Eve's at grandma and pap's house with all my aunts and uncles (there were 14 of them) and all the cousins (tons of us). Grandma would send us to the creek to break off ice and we would make homemade ice cream along with grandma's champagne, which consisted of ginger ale and sherbet. My parents told me the older you get the faster time flies, I didn't believe them, but wow is it ever flying, but this doesn't mean I'm getting older. HAHA!
To kick off the season, we will be having our first ever "Melcroft Christmas Tree Lighting" where the community can stand together, strong and proud. It will be held at the far end of Ed's Storage units in Melcroft, at 6:30 pm on December 1, 2018. Come enjoy a time of singing, fellowship and refreshments. Feel free to bring an ornament to hang on the tree. It's a chance for us to gather together and support one another and show the world that we are Mountain Strong and that we remember and we care when one of our community members hurt, because when one hurts we all hurt. This season is a good time to bring some joy and fellowship back to our community. In advance, I would like to thank the local small businesses and all those who helped make the event a success. If you missed out on the festivities this year mark your calendar for Sunday, December 1, 2019, as we plan on having it again with it being even bigger and better.
The stocking stuffer tickets are out. Get yours at the following locations; LHTC Broadband, See-Mor's All Star Grill, Top Notch Veterinary Services, MLCC and Shari Bukovac Bookkeeping. What a great Christmas gift for anyone.
Keep praying for snow (just for the months of January and February) as the "Build-A-Snowman" contest is right around the corner. Watch for details in the upcoming flyer.
With Warm Christmas Wishes,
Shari Bukovac
MLCC President
Owner, Shari Bukovac Bookkeeping
---
November 2018
A Message from Shari,
WOW!! What a great turnout at the Ladies' Day Bash. This was our best yet. My hope is that everyone from guests to vendors and workers had an enjoyable meal and a tasty drink along with great fellowship and fun with friends. Everyone went home with something, thanks to King Legal Group, LLC for gifting each and every one a $50.00 gift certificate and sponsoring the event. A big thank you to Kris and Stefanie for all their outstanding preparation and organization of the event. We are taking notes and already preparing for next year's event for an even better day.
HAVE YOU HEARD??? The Mountain Laurel Chamber of Commerce is celebrating its 20th Anniversary!! WOOHOO!! It's going to be fantastic-wonderful food and drink-entertainment in the Alpine Room at Seven Springs Mountain Resort on Thursday, November 8th beginning 6:30 PM (learn more). Make your reservation now by calling Kris or Stefanie or mail in your invitation to reserve your seat. I wonder how many 20-year members we have? The first person to guess it right by contacting the chamber office will receive a gift certificate compliments of my business, Shari Bukovac Bookkeeping.
Start to watch for the Annual MLCC Stocking Stuffer Ticket. It will be out soon and tickets go quickly. See page 30 for more details on where to get your stocking stuffers. They make great gifts for everyone from the hard to buy for family member or as an appreciation gift to that certain person you want to say thank you to.
Mark your calendar for Saturday, December 1st at 6:30 pm for the "First Ever Melcroft Tree Lighting" and come out for some caroling and refreshments. For more details, please look for the flyers that will be posted at local businesses. Also, another first, the MLCC is planning a snowman building contest, please see next month's flyer for more information.
We encourage all of our readers to participate in Small Business Saturday and to visit the many shops and restaurants participating in Christmas in the Mountains.
What a beautiful couple of weeks we had at the beginning of October, my kinda weather. Here comes Gods beautiful quilt of color as the trees all change. Hope everyone gets out to enjoy this Blessing.
Here's to a happy fall and wonderful Thanksgiving season,
Shari Bukovac
MLCC President
Owner, Shari Bukovac Bookkeeping
---
October 2018
A Message from Shari,
It's with tears in my eyes and joy in my heart that I write this note today. As many may know, my sisters and I said "farewell for now, see you soon" to our wonderful mother as she flew home to be with Jesus. We want to thank Everyone for their prayers, cards and love. It truly does carry you through. A special thank you to Chad (G & D Market) and Roxann (See Mor's Grill) and All of our special family and friends (Joey) that made and sent food. We would also like to thank All the Extraordinary Willing Worker Ladies of Millertown Community Church who prepared and served a delicious meal for us to share and celebrate Mom's earthly life and rejoice that she's in her eternal life. Thank you to Bernie (Barron's Floral) and Linda (Brown's Floral) for creating the beautiful flowers, chimes and blanket, sent by our family and friends. We would also like to thank Pastor Tim Beatty (Buchanan Church of God) for officiating the service and The Clyde Brooks Funeral Home for all they did for us. And a grateful thank you to Missy and staff (Upton's Country Comfort) for loving and caring for Mom as if she was their Mom. We are so Blessed to know such wonderful people and have a caring community family. Thank You!
LADIES ARE YOU READY???? We are working hard on making this 5th Ladies Day Bash the best one yet! Come on out for a fun afternoon and enjoy food, drink and fellowship all the while winning wonderful baskets of goodies, gift certificates, prizes and money. Congratulations to the lucky winner of the 4 door ticket giveaway, Debbie Lowhigh. Your table awaits you and your friends. The bash is set for Sunday September 30th from 1pm to 5pm, at the Donegal Event Center. Doors will open at 12 noon. Take your time and drive slowly with the road construction going on. Hope to see all you there!
Please join me in congratulating the chamber along with all of our members in celebrating our 20th Anniversary. Chamber members, mark your calendars for Thursday, November 8th and join us at Seven Springs Mountain Resort for a fun-filled celebration dinner. For those who are not a member, please call the office and ask for details on becoming a member or simply ask to be entered on the invitation list because you like what having us!
A big welcome to our new members for 2018! We look forward to working with you in the coming year.
Fall is in the air. I myself am hoping for a little more summer, but the fall is beautiful and I welcome it! The pumpkins are ready for picking and the baking of pies. I'm ready!
UPCOMING EVENTS:
MLCC 5th Annual Ladies Day Bash, Sunday, September 30th – Donegal Event Center
MLCC 20th Anniversary Dinner – Thursday, November 8th – Seven Springs Mountain Resort MLCC Stocking Stuffer Annual Ticket Sales
See you there,
Shari Bukovac
MLCC President
Owner, Shari Bukovac Bookkeeping
---
September 2018
A Message from Shari,
The Mountain Laurel Chamber of Commerce (MLCC) is delighted to announce the 5th Annual Ladies Day Bash! This year's event is set for September 30, 2018 at the Donegal Event Center, formerly the Donegal Community Center, from 1:00pm – 5:00pm.
Big wins are promised! Each year has been bigger, better, and more exciting and this year will be no exception.
We want to extend a special thanks to King Legal Group, LLC for sponsoring this year's event. Sponsorship monies were put right back into the event as we increased our giveaways on the door tickets. Ladies in attendance can look forward to $150 Cash giveaways every hour, $100 Cash or a $100 gift certificate every 15 minutes, and a $500 Cash giveaway at 5:00pm, along with short tips, instant tickets, 50/50 drawings, auctions, and a variety of vendors.
We would also like to thank Chad Gales of G&D Market for catering the delicious Pasta Buffet and Joe Sarnelli of Sarnelli's Corner for supplying us with great refreshments.
Do you have a unique business you would like to share? Why not come out and be a part of this exciting event as a vendor? We still have space available. Please contact the MLCC office at (724)593-8900 for details.
We have so many awesome things planned for the attendees. We want everyone to feel like it is their lucky day!
See you there,
Shari Bukovac
MLCC President
Owner, Shari Bukovac Bookkeeping
---
A Message from Tim,
It's hard to believe, but like a blink of an eye, the Summer of 2018 is winding down! Similarly, can you believe that the Mountain Laurel Chamber of Commerce is about to celebrate its 20th Anniversary?
There is much to celebrate as the MLCC reaches this milestone:
monthly production of the "free" news flyer with a circulation of nearly 10,000
promoting local businesses, community events and increasing awareness of issues germane to the mountain community and Laurel Highlands tourists
development of a new modern website loaded with valuable information featuring our chamber members
creation and production of the www.laurelhighlandsweddings.com online wedding directory; promoting the Laurel Highlands and our local wedding venues as a premier "destination wedding" location
functioning as our community liaison with PennDOT for the Route 31 reconstruction project
its continued support for local economic development
promotion of local community and networking events, such as the annual Ladies Day Bash and Golf Outing
We are in the process of planning a MLCC 20th Anniversary Dinner Party for the evening of Thursday, November 8th at the 7 Springs Mountain Resort, so mark your calendars and stay tuned for more information about joining us for this very special upcoming event.
Lastly, I would like to remind everyone of the 5th Annual MLCC Ladies Day Bash that is scheduled for Sunday, September 30th from 1pm to 5 pm at the Donegal Event Center. Tickets go fast and the event typically sells out, so don't delay and get your tickets today! See the advertisement in this edition of the flyer for more information.
Thank you for your ongoing support of the Mountain Laurel Chamber of Commerce!
Sincerely,
Timothy J. Pisula,
General Manager
LHTC Entertainment, Inc.,
d.b.a. Caddie Shak &
MLCC Board Member
---
August 2018
A Message from Shari,
Aren't we blessed to enjoy such beautiful seasons. All the rain we have had in May (and continued in June and July) made the trees and plants grow and they are so green and lovely. I hope the farmers are able to get all of their hay made and all their crops are growing well.
I love the smell of fresh cut hay. It reminds me of the county fairs happening this time of year. I enjoy seeing the livestock, the canned goods and the many home-made crafts and products that are put on display. Even the local fairs are great gathering spots to appreciate the sights and sounds of summer or to visit with friends that you haven't seen in a while.
With the growing of the crops, comes canning season. It seems like a lot of hard work to do in the heat of summer, but it sure pays off during the winter months when you can open a jar and appreciate the smell and taste of everything the Lord has blessed you with in your garden. And if you don't grow a garden yourself, Pletcher's Farm Market offers a wide variety of fruits and vegetables for purchase to enjoy now or preserve for later. Wouldn't it be great if we could bottle some of this sunshine and warmth to open in the dead of winter to enjoy!
The air conditioner seems to be running nonstop, but before we know it the heaters will be turned on. Now is the time to confirm that your air conditioner and heaters are in top running order. Don't wait until they quit working to have them serviced. Ridgeline Heating and Cooling and Dipaola Quality Climate Control are the ones to see to meet these needs. Also, don't forget about your animals when you think of the heat. Make sure they have a cool place in the summer and a warm place in the winter to reside. If you don't have a pet, you might consider adopting a pet at the local shelters or even volunteering your time to walk or play with the animals at the local shelters.
FYI: The Mountain Watershed Association is seeking donations to help with the completion of The Indian Creek Gorge project. Visit the website to make donations www.mtwatershed.com or mail gifts to MWA marked Special Campaign. All donations to the Trail Fund will be used to complete Phase II until the task is finished.
Mark your calendars for the following:
Mountain Pines Campground
will be having live entertainment during the month of August. The
Laurel Hill Bluegrass Festival
is coming up on August 18th at Laurel Hill State Park.
Seven Springs Mountain Resort's
Wine Festival will be happening August 24th thru 26th.
LHTC Broadband
customer appreciation day is on August 25th at the Flax Scutching grounds, bring the family out and enjoy some food, prizes and fun and games. The
Stahlstown Flax Scutching Festival
is scheduled for September 15th & 16th. This annual event is always a hit with the locals as well as visiting friends. The
Ladies Day Bash
will be held at the Donegal Event Center on September 30th so plan on joining us for a fun filled day.
With all the activities going on in the mountains please remember to drive carefully and have a wonderful rest of the summer.
Soaking up the sun and loving it,
Shari Bukovac
MLCC President
Owner, Shari Bukovac Bookkeeping
---
June 2018
A Message from Shari,
Summer has finally arrived after a long winter. It seems like the weather went from zero to 80 in a few short days, not that I'm complaining. With the warm weather comes the chance to get outdoors and have a great time and make memories. To help you get your gardens planted, stop in at Pletcher's Farm Market and Witt's Perennial Nursery for your flowers and plants.
The Laurel Highlands has something to offer everyone. Outside is the place to be in the summer so take advantage of the local State Parks. Mountain Pines Campground, Donegal Campground, Laurel Highlands Campland, Scottyland Camping Resort and Yogi Bear's Jellystone Park are all great places to go camping, hiking, biking, or fishing. You could spend the day or the weekend or go for an extended visit and stay at Alpine Retreat B&B, Falls Inn, Foggy Mountain Lodge, Two Cabins in the Woods, Hidden Valley & Seven Springs, Days Inn Donegal, Holiday Inn Express & Suites, or Log Cabin Lodge & Suites. Don't have a bike? Just rent one from Hazelbaker's Boat & Bike Rentals, located at Laurel Hill State Park. How about a day at Living Treasures Wild Animal Park where you can see, feed and pet the animals!
For a fun filled day in the sun, you might want to go zip-lining, golfing or swimming at Hidden Valley & Seven Springs Resorts and if golf is your ticket the greens are beautiful at Novelt Golf Club & Glengarry Golf Links. Don't forget the Powdermill Nature Reserve and the Caddie Shak for a variety of activities. The Indian Creek Valley ATV Club is accepting new members and I'm sure would love to have you join them and if you just fill like staying home, rent a movie at See-Mor's Video.
Packing a picnic lunch is as easy as stopping by the delis at G & D Market or Sarnelli's Market to pick up everything you will need or stop at McDonald's or Subway for breakfast lunch or dinner to go and a trip to Whoa Nellie Dairy is a must for your chocolate milk drinkers! What a better way to top off a perfect day then with ice cream from Dairy Queen or sweet goodies from The Country Pie Shoppe. Sarnelli's Beer Distributor, Wine Cellar and Liquor Store have you covered on your adult beverage needs.
Even the rain can't stop you from enjoying the beautiful mountains of western Pennsylvania. On a rainy day you could enjoy a leisurely meal or a cup of coffee at Falls Market Restaurant, Brenda's Family Restaurant, See-Mor's All Star Grill, Fox's Pizza Den, Silver Horse Café, Out of the Fire Cafe, Foggy Mountain Restaurant, Springer's Cove at Tall Cedars, Nino's, and the Main Street Wine Bar. Browse the shops at Collections by Marty, the Old General Store and the Dollar & More Store at the bottom of Three Mile Hill or just take a ride and appreciate the scenery.
No matter what you choose you can't go wrong with summer in the Laurel Highlands. Make sure you keep on reading the flyer to stay informed with all the latest happenings in the community. Have you noticed the new "Wedding Online Directory?" What a wonderful job by Kris and her team. I would like to give Kris a big "thank you" for the great effort she puts in running the Chamber.
And last but never least – Happy Father's Day to all our loving, kind, supportive, wonderful fathers. May your day/year be filled with lots of love and laughter. We thank you Lord for blessing us with fathers.
Enjoying Summer,
Shari Bukovac
MLCC President
Owner, Shari Bukovac Bookkeeping
---
May 2018
A Message from Tom,
I count myself very lucky to live in the Laurel Highlands. I wasn't born here.I came to the area as a skier as a youth. Having a business in Butler County, Ithought this would be a great place for a second location. Boy, was I right!!! Afterestablishing Donegal as my remote location, I got to know a lot of local people. The natural beauty of the area and the friendliness of the people here influenced me to make this area my home. I think it's pretty special to live in an area that so many others come to visit. Again, I count myself very lucky.
As we head into the 2018 summer season we are facing a high volume of tourists and a huge construction project on Route 31. I'm going to try to keep three things in mind.
First, the tourists are a big part of our economy. They are here to have a wholesome good time and enjoy the natural beauty with which we are blessed. A few kind words make a real difference in people's experience. I want to think of "Hospitality" as my middle name.
Second, the construction of Route 31 is only a temporary inconvenience. This is a project that is long overdue and when it is completed we will have a safer and better infrastructure. I plan to keep that in mind when I'm waiting at a one lane construction site. I plan to wave at the flag-persons to show my appreciation for their contribution. They put in long days. I want them to feel kindness and appreciation instead of selfish thoughts of my inconvenience.
Third, because I live in an area with such great people, I want to show my appreciation to them also. We have VERY dedicated groups of emergency services. Our fire companies, ambulance service and police are there at all times of need. Individuals working the cash registers and providing services are part of our local community. A smile and some kind words go a really long way to making their day a little brighter.
I believe that whatever I give, I get back. Please join me in expressing appreciation to all of those who we come in contact with. They deserve it!!!
Tom Guiher
MLCC Board Member
Living Treasures Wild Animal Park
---
April 2018
A Message from Rob,
It is a pleasure to pass along reports of growth of businesses in the area served by the chamber when, in times past, this "mud season" brings only increases in rental vacancies, traffic flaggers, orange barrels and potholes. Most obvious is the start of the much-discussed deep mine, long lines of traffic on usually quite intersections and increased foot traffic at local establishments during right of way changes in the Route 31 construction corridor.
In house, the Chamber has an increase in membership and relocated to expanded offices on Route 31 in Jones Mills, being more central to the membership base and affording increased capacity for member services. The new members represent the diverse population served by the Chamber and are participating in increased member services, including our expanded website and promotions of new and existing member businesses.
With normal activity of this "mud season" overshadowed by the strong positive business environment, many thanks are extended to all in the membership of the chamber for the constant support of our businesses largely contributing to this time of prosperity in the counties served by local businesses and chamber members.
Robert W. King
MLCC Board Member
King Legal Group, LLC
---
March 2018
THINK SPRING!
Before we go any further, we would like to give a sincere and honest "thank you" to our townships supervisors and their crews, as well as to our PennDOT employees for keeping us safe this winter on the highways. You guys work long, hard hours to keep our roads clear in the worst conditions – thank you!
Due to what must have been "cabin fever", our bus trip to Wheeling Island is sold out for March 24th.
We are excited to announce we have relocated the chamber office. Our new physical address is 4111 State Route 31, Jones Mills PA 15646.
PLEASE MARK YOUR CALENDARS:
✔ The MLCC 19th Annual Golf Outing is scheduled for Friday, May 18th at Glengarry Golf Links in Latrobe.
✔ The MLCC Annual Ladies Day Bash is scheduled for Sunday, September 30th at the Chestnut Ridge Community Center (formerly the Donegal Area Community Center.) We are pleased to announce Rob King of King Legal Group as our Master of Ceremonies and Lunch & Dessert Sponsor. See ya there ladies!
✔ Please see next month's flyer for more information on our Quarterly Networking Luncheons.
——————–
A Message from Abe,
Dear Neighbors,
We have Chamber members who reside in Westmoreland, Fayette, and Somerset Counties! That means we are watching many political races this year! In fact, a special election will be held on March 13 to fill the remainder term of Congressman Tim Murphy, US District 18 pictured below. You may have seen the commercials for Representative Rick Saccone Republican and Connor Lamb Democrat. There are NATIONAL dollars coming into this race so make sure YOU cast your vote.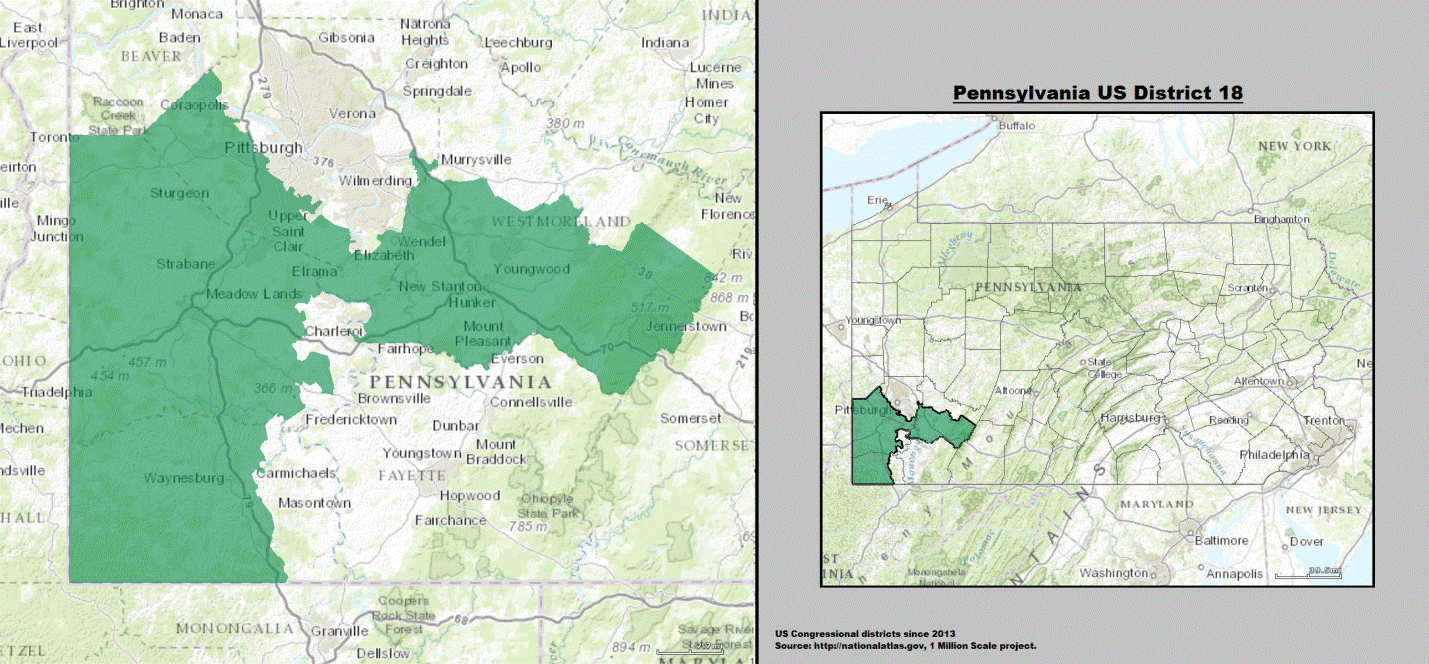 Another race that will impact some of our members is in District 9 to fill the shoes of Representative Bill Shuster. This one happens May 19. Check out the map below to see if you fall into this district!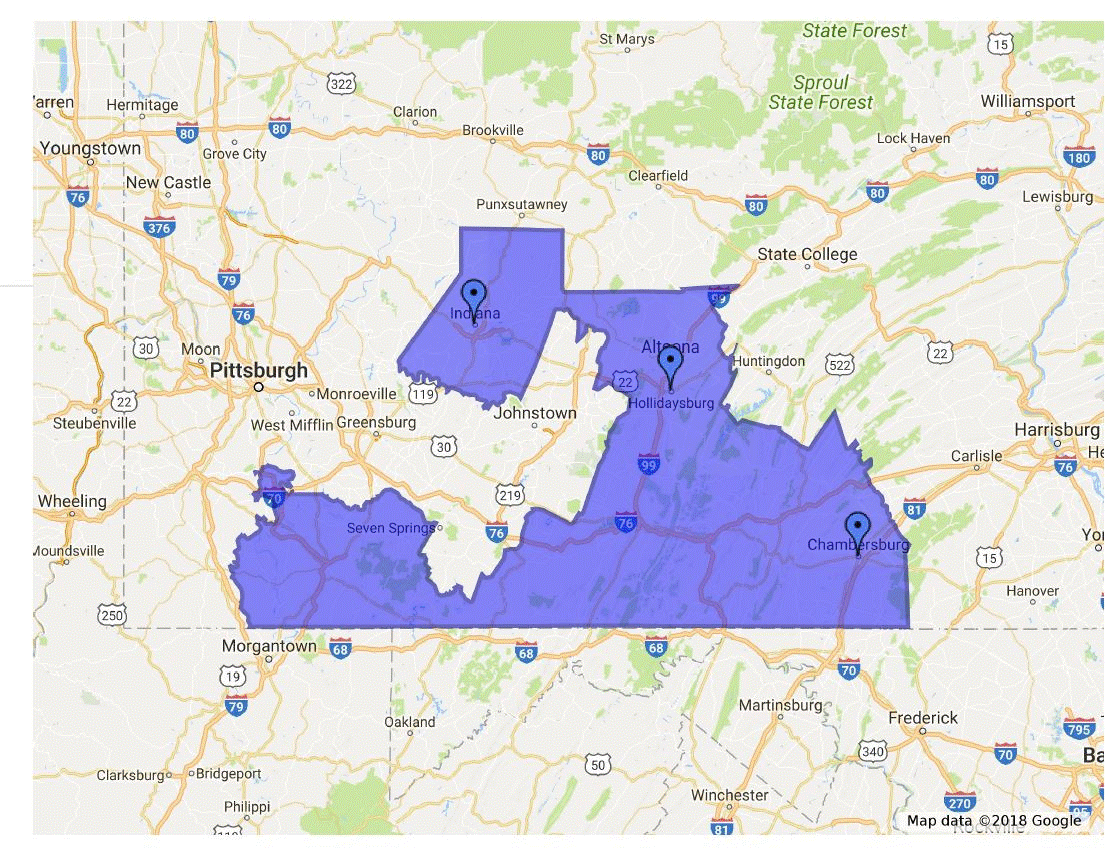 Here's a quick preview of the 2018 Primary Elections:
U.S. Senate
ALL 18 U.S. Congressional Seats (Special Election March 13)
Governor
25 PA Senate Seats
ALL 203 PA House Seats
What is most important is that YOUR VOICE MATTERS ONLY IF YOU VOTE!
Check out this site to find out WHO is your representative: http://www.legis.state.pa.us/
Check out this site to find where you vote: http://www.votespa.com/en-us
Check out this site to become registered to vote: http://www.votespa.com/en-us
Adrienne Abe Wagner, Associate Broker
BHHS The Preferred Realty
MLCC Board of Director & Governance Chair
---
February 2018
A Message from Jim,
I have the privilege to write this newsletter message and as I do, we're in the midst of another winter season and the snow is falling across the beautiful Laurel Highlands. I just returned from a trip, touring the southwestern part of the U.S. with a few of my family members. During the course of our travels, we covered six states and viewed some amazing landscapes including the Grand Canyon, and the Zion, Sequoia, and Death Valley National Parks. While each of these locations was unique and beautiful, it's good to be back in the Laurel Highlands — an area of the country that is just as stunning in its own way.
Time continues to pass at a seemingly ever rapid pace. The year 2017 is now in the rearview mirror and before we know it, God willing, we'll be saying the same thing about 2018. As we enter the second month of the New Year, on behalf of myself and the other members of the Board of Directors of the Mountain Laurel Chamber of Commerce (MLCC), I encourage each of you to be engaged in the activities of the MLCC. With that said, it's up to each one of us to make a positive difference and contribute to the local communities we have the honor and privilege to live and do business in. By taking a genuine interest in the activities of the MLCC, not only will you get the most out of your membership, you will play a role in ensuring that the MLCC effectively addresses the issues considered important to its members and the local business community.
On a more personal note, as some of you know, the Caddie Shak will be operated under the direct management of one of LHTC's affiliate companies — LHTC Entertainment, Inc. Along these lines, we are preparing for the 2018 season and I think you will be pleased with our continued efforts to grow and develop the facility. One of our primary goals is to draw more visitors to the area, which should have a positive impact on the local economy.
If you have any thoughts about how the MLCC can better serve you during the upcoming year, please don't hesitate to let me, Kris or another member of the Board know. Best wishes to you and yours for a healthy and prosperous New Year.
Sincerely,
James J. Kail
MLCC Board Member
LHTC Broadband CEO & President
---
January 2018
A Message from Kris,
On behalf of the Mountain Laurel Chamber of Commerce (MLCC), I would like to wish everyone a very happy, healthy and prosperous New Year. The weather channels are predicting lots of snow this winter – that means plenty of fun on the mountain this season!
It's truly amazing how quickly time flies by, and this past year has been no exception. As I reflect over the past 12 months, I am delighted with the range of activities our chamber was able to accomplish. 2017 was a good year for the MLCC and surrounding communities. We had, and will continue to have, exciting new developments (such as LaurelHighlandsWeddings.com), and a sense of things happening, especially with our highway infrastructure and the growth of new business.
2018 is shaping up to be just as exciting!
Stay tuned for more details on the below upcoming events for the MLCC:
Join us for a ribbon cutting ceremony at Life's Promise Personal Care Home on January 13th at 2053 State Route 711, Ligonier, PA 15658
By the time we crawl around to March, we will all be itching to get out. We have the cure – Wheeling Island "Cabin Fever" Bus Trip. Stay tuned in our monthly flyer or on Facebook for more details soon!
One of the biggest events of the year, our 19th Annual Golf Outing, will be held in May at Glengarry Golf Links in Latrobe. You don't want to miss this fun-filled event (or the advertising opportunities)!
We will release our new 48-page Membership Directory in July. Contact the MLCC office for early bird discounts on advertising.
Ladies – plan ahead for this year's Ladies Day Bash and don't miss a chance to win amazing prizes! Check out our Facebook page, the monthly flyer, or MLChamber.com for upcoming details about this fun event in October.
A chance to mingle & network at our Annual Dinner Celebration will be held in November at the beautiful Seven Springs Mountain Resort. We can't wait to see everyone there!
Don't forget! Our monthly MLCC flyer has valuable information on highway updates, local business and community meetings & events. This is a one-of-a-kind publication that ties our portion of Westmoreland, Fayette and Somerset Counties together. I encourage local churches, fire departments and clubs & organizations to build awareness to their events by utilizing this piece to reach even more members of the community.
Remember, this publication reaches over 8,000 households each & every month, with additional copies placed at area businesses for our visitors to enjoy.
Finally, I am proud to introduce the MLCC 2018 Executive Committee and Board of Directors.
Executive Committee:
President
Shari Bukovac (Shari Bukovac Bookkeeping)
Vice President
Rob King (Attorney at Law)
Secretary
Tammy Shawley (Seven Springs Mountain Resort)
Treasurer
Jim Kail (LHTC Broadband)
Directors:
Ken Firestone (Firestone Insurance Agency)
Tom Guiher (Living Treasures Wild Animal Park)
Brit Grimes (Mayor, Donegal Borough)
Mark Hughes (Hughes Physical Therapy)
Hank Parke (Somerset Trust Company)
Tim Pisula (LHTC Broadband)
Barb Skinner (Christian Family & Children's Center)
Jamie Stilley (Amerikohl Mining Inc.)
Adrianne Wagner (Berkshire Hathaway the Preferred Realty)
I have had the pleasure of working with many of these dedicated individuals for the last 18 years and am blessed to have the professionalism and integrity they have given, and continue to give, to our organization.
As we enter 2018, let us all have a prosperous and successful year ahead!
Keep up with everything going on in the community and at the MLCC on Facebook.com/MountainLaurelChamber.
Happy New Year!
Kris Enberg
MLCC Executive Director