TABLE OF CONTENTS
State
Gov. Wolf's Order to Close Non-Life-Sustaining Businesses
PA.GOV Offers Guidance on Responding to Coronavirus
Resources for Businesses & Employees
Excela Health's Community Message
PennDOT Photo & License Centers
Vote-By-Mail Option for Upcoming Primary Election
******
County
Westmoreland County Resources
Fayette County Resources
Somerset County Resources
******
Local Community
– Local Businesses Still Open & Updated Hours –
– Local Employment Opportunities –
– Faith-Based Resources –
---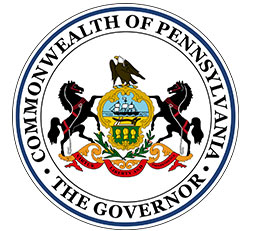 PENNSYLVANIA GOVERNOR'S OFFICE, TOM WOLF
March 19, 2020 – ALL NON-LIFE-SUSTAINING BUSINESSES IN PENNSYLVANIA TO CLOSE PHYSICAL LOCATIONS AS OF 8 PM TODAY TO SLOW SPREAD OF COVID-19
Harrisburg, PA – Governor Tom Wolf today ordered all non-life-sustaining businesses in Pennsylvania to close their physical locations as of 8 p.m. today, March 19, to slow the spread of COVID-19. Enforcement actions against businesses that do not close physical locations will begin at 12:01 a.m. Saturday, March 21.
Gov. Wolf's order is here.
A video statement from Gov. Wolf is here.
Sec. of Health's order is here.
A list of life-sustaining businesses is here.
In extenuating circumstances, special exemptions will be granted to businesses that are supplying or servicing health care providers.
"To protect the health and safety of all Pennsylvanians, we need to take more aggressive mitigation actions," said Gov. Wolf. "This virus is an invisible danger that could be present everywhere. We need to act with the strength we use against any other severe threat. And, we need to act now before the illness spreads more widely."
The governor had previously encouraged non-life-sustaining businesses to close to mitigate the spread of COVID-19. Restaurants and bars were already required to stop all dine-in services. Enforcement for establishments with a liquor license began at 8 p.m. March 18, and enforcement for all other food establishments will begin at 8 p.m. tonight. Food establishments can offer carry-out, delivery, and drive-through food and beverage service, including alcohol.
Pursuant to the Emergency Management Services Code, the governor is granted extraordinary powers upon his declaration of a disaster emergency, such as COVID-19. Among these powers, the governor may control the ingress and egress into the disaster area, the movement of persons, and the occupancy of premises within the disaster area, which has been established to be the entire commonwealth for the COVID-19 disaster emergency. The secretary of health separately is authorized under the law to employ measures necessary for the prevention and suppression of disease.
Separately, and taken together, the administration is exercising these powers to temporarily close all non-life-sustaining businesses and dine-in facilities at all restaurants and bars across the commonwealth. Persons must be removed from these premises to cope with the COVID-19 disaster emergency.
Failure to Comply and Enforcement
Failure to comply with these requirements will result in enforcement action that could include citations, fines, or license suspensions.
The governor has directed the following state agencies and local officials to enforce the closure orders to the full extent of the law:
· Pennsylvania Liquor Control Board
· Department of Health
· Department of Agriculture
· Pennsylvania State Police
· Local officials, using their resources to enforce closure orders within their jurisdictions
Private businesses, local organizations and other noncompliant entities that fail or refuse to comply with the governor's orders that protect the lives and health of Pennsylvanians will forfeit their ability to receive any applicable disaster relief and/or may be subject to other appropriate administrative action. Such action may include termination of state loan or grant funding, including Redevelopment Assistance Capital Project (RACP) grant funding and/or suspension or revocation of licensure for violation of the law.
Finally, in addition to any other criminal charges that might be applicable, the Department of Health is authorized to prosecute noncompliant entities for the failure to comply with health laws, including quarantine, isolation or other disease control measures. Violators are subject to fines or imprisonment.
Business Loans and Support
The Department of Community and Economic Development (DCED) offers working capital loans that could be of assistance to businesses impacted by COVID-19. Resources and information will be posted to http://dced.pa.gov/resources as they become available. The U.S. Small Business Administration, in addition to local funding partners, may also be a source of assistance for affected businesses.
The Wolf Administration today announced the availability of low-interest loans for small businesses and eligible non-profits in all 67 counties in Pennsylvania through the U.S. Small Business Administration (SBA).
Businesses seeking guidance from DCED can also contact its customer service resource account at ra-dcedcs@pa.gov or by calling 1-877-PA-HEALTH and selecting option 1.
For the most up-to-date information on COVID-19, Pennsylvanians should visit: https://www.pa.gov/guides/responding-to-covid-19/.
MEDIA CONTACT: Lyndsay Kensinger, Governor's Office
BUSINESS CONTACT: ra-dcedcs@pa.gov or 1-877-PA-HEALTH option 1
PUBLIC CONTACT: 1-877-PA-HEALTH option 2
Or by webform at https://www.governor.pa.gov/contact/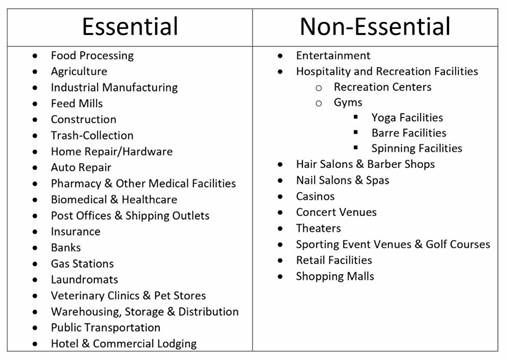 March 20, 2020 – PA Chamber Statement on Governor's COVID-19 Emergency Order to Close "Non-Life-Sustaining" Businesses
HARRISBURG – Late yesterday, Gov. Tom Wolf issued an order for all "non-life-sustaining businesses" in the Commonwealth to close their physical locations. A list of businesses and industries and their classification can be found here. That order was effective at 8 p.m. last evening with enforcement slated to begin at 12:01 a.m. on Saturday, March 21. At the same time, the governor announced enforcement actions against food and liquor establishments that have failed to comply with a previous order. That enforcement began at 8 p.m. last night (March 19). PA Chamber of Business and Industry President and CEO Gene Barr issued the following statement regarding the governor's order.
"While we understand the need for strong measures to mitigate the spread of the COVID-19 virus, many of the industries listed as "non-life-sustaining businesses" in the governor's order are in fact part of the supply chain for other businesses listed as being a "life-sustaining" business.
"We understand that there may be confusion among the state's business community regarding whether or not they are considered to be a "life-sustaining" business. The Department of Community and Economic Development has set up two e-mails regarding this issue. We encourage employers with questions about whether their organization needs to close to contact DCED at ra-dcedcs@pa.gov. The Department has also dedicated the following e-mail, RA-dcexemption@pa.gov, for businesses seeking an exemption to the order.
---
PA.GOV'S GUIDANCE ON RESPONDING TO CORONAVIRUS
Information on symptoms and prevention, travel, mitigation, scams, emergency food assistance, mitigation guidance, social distancing and much more is available at www.pa.gov/guides/responding-to-covid-19/.
---
RESOURCES FOR BUSINESSES & EMPLOYEES
The Department of Community and Economic Development (DCED) is expected to offer loans that could assist businesses affected by COVID-19. Information will be posted to www.dced.pa.gov/resources/ as it becomes available.
The Strategic Early Warning Network, administered by the Department of Labor and Industry, offers resources to help small and medium-sized business, including business planning resources and contingency planning, at www.steelvalley.org/coronavirus.
The Pennsylvania Chamber of Business and Industry also has a webpage dedicated to helping businesses deal with Coronavirus concerns at www.pachamber.org/coronavirus.
The US Chamber of Commerce has provided a Small Business Guide & Checklist for Coronavirus Emergency Loans.
The Westmoreland County COVID-19 Leadership Team maintains a webpage decided to helping businesses deal with Coronavirus concerns at https://www.co.westmoreland.pa.us/2883/COVID-19-Business-Resources
Employees who are unable to work because of COVID-19 may be eligible for Unemployment Compensation or workers' Compensation. The Department of Labor and Industry offers guidance to employees on this issue at www.uc.pa.gov/COVID-19/Pages/default.aspx.
For Unemployment Compensation, file initial claims at 1-888-313-7284 and continued claims at 1-888-255-4728. If possible, file claims online at www.uc.pa.gov.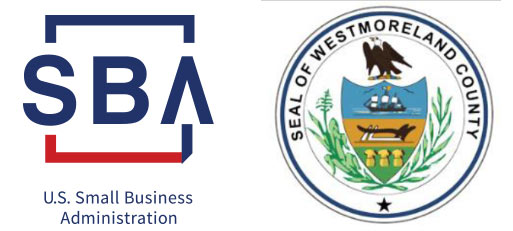 Westmoreland County COVID-19 Leadership Team urges small businesses and nonprofits to familiarize themselves with application process for SBA Economic Injury Disaster Loans
GREENSBURG, PA, March 19, 2020 — In anticipation of the U.S. Small Business Administration's expected approval of COVID-19 emergency funding for all of Pennsylvania within the next 48 hours, the Westmoreland County COVID-19 Leadership Team strongly recommends that managers of affected local businesses and nonprofit organizations familiarize themselves now with the application process and its requirements.
"If your business has suffered during this emergency, you need to get ready to file," said Sean Kertes, chairman of the county commissioners. "At this point, it's unclear how much funding the SBA will earmark for Pennsylvania, so we urge our local businesses not to wait. We want the county economy to be well-positioned to emerge strong once this passes."
The SBA's Office of Disaster Assistance is reviewing a statewide disaster declaration application submitted by Gov. Tom Wolf's office, and an SBA representative has informed county officials that the SBA is expected to approve the declaration with the next 48 hours. Once SBA Administrator Jovita Carranza issues the declaration, Pennsylvania's small businesses will be able to go to https://sba.gov/disaster to apply for an Economic Injury Disaster Loan. These low-interest loans are for small businesses and private nonprofits that have been negatively impacted by the coronavirus. The loans can be for up to $2 million.
To prepare applicants, the SBA has provided three documents:
• A three-step overview of the SBA Disaster Loan process,
• A summary of terms of the disaster assistance, and
• A notice to lenders, CDCs and microloan intermediaries regarding deferments on SBA 7(a) and 504 business loans and microloans.
For information concerning SBA's disaster funding, see https://www.sba.gov/funding-programs/disaster-assistance.
Businesses with questions about the funding should contact the SBA Pittsburgh District Office at wpainfo@sba.gov.
Media Contact: James L. Smith, President & CEO, Economic Growth Connection of Westmoreland 724-433-7180, jsmith@egcw.org
---

EXCELA HEALTH
March 18, 2020 – From Dr. Carol J. Fox, Chief Medical Officer at Excela Health
To our community:
Recent days have become a challenge for all Americans due to the emergence of COVID-19 infection in the United States. Western Pennsylvania is not immune to this infection and as you are aware, as of this writing, there are more than 10 confirmed cases in our region with many more test results that are pending.
We have been asked to make significant sacrifices as a community in order to mitigate the spread of this disease. Schools and businesses are closed. Individuals are asked to practice social distancing – keeping a minimum of six feet in between individuals and avoiding crowd situations. These actions are important and will help to minimize community transmission. Of utmost importance is maintenance of common sense measures: covering your cough or sneeze with a tissue that you discard immediately or with your elbow; avoid touching your face (nose/eyes/ mouth); staying even further away from others if you are ill; and above all, vigorous hand washing with soap and water for at least 20 seconds OR use of an alcohol based sanitizer.
At Excela Health, we are taking significant measures to keep our community, our patients, and our staff safe.
• We are limiting visitors to our hospitals. We ask that there be only one visitor per patient in our hospitals at any given time. Exceptions can be made for patients in hospice or end-of-life care. We know that this may be difficult for some families, but avoiding close groupings in waiting areas is for your safety as well as ours. And importantly, for your loved ones who are
trying to heal.
• Visitors who are ill are not permitted.
• We are asking vendors to stay outside of the hospital buildings.
• Our physician leaders in each of our specialties are working with their patients to determine services that can be deferred at this time. If you are seeking routine care or truly elective surgical, or gastroenterology procedures, these services will be deferred at this time. We have made this decision in order to be compliant with best practice recommendations and to keep you and our staff safe.
• We are providing appropriate Personal Protection Equipment (PPE) to our staff to use when in contact with patients who are being tested for COVID-19.
• We have over 50 ICU beds in our hospitals and nearly 80 ventilators should they be required.
• We have multiple negative pressure rooms and the capacity to create more with negative pressure machines.
• We are available to help you if you become sick. If you have a life threatening illness, please call 911 to transport you to the Emergency Department. If you have non-life threatening illness, please contact your Primary Care Physicians (PCP) for their advice. Please do not just walk in to your PCP. If you are ill, we want to take special precautions to protect you and other patients who may be in the offices when you arrive. Bear with us. We DO want to take the best care of you.
• If, after obtaining your historical and symptom data (this step may occur via phone or via a web based application) and we believe your require testing for COVID-19, we will work with you to facilitate that testing. There is not an unlimited access to testing. However, we are committed to ensuring that you get the care and testing that makes the most sense for you.
• We are collaborating closely with our county leadership team to ensure that our activities are in lock step with one another.
• We are posting COVID-19 information on our public website: www.excelahealth.org. This information is updated as new material evolves. We also offer quick links to the CDC and Pennsylvania Department of Health websites.
We understand that there is a lot of information out there. It is our desire to attempt to make that information easily available and understandable to you. We understand that some of you are frightened. It is important that you remember that while more people will become infected, the vast majority of them will be able to recover to full health. Those most at risk, older adults and those with chronic illnesses will need our collective help. If you are shopping for essential items, pick up extra for these at risk individuals so that they can remain safely at home. Check on these individuals by phone in order to avoid social isolation while we are practicing social distancing. We have to work together as a community. We must look out for one another. We must not let fear overcome taking rational measures to protect our safety.
Westmoreland County will persevere.
---
PENNDOT PHOTO & LICENSE CENTERS
All PennDOT Driver License Centers and Photo License Centers will be closed for at least two weeks, effective March 16. Customers are encouraged to complete all photo ID and vehicle registration renewals, address changes and other PennDOT services online at www.dmv.pa.gov. Mailed products will be delayed until normal operations resume.
As a result of the closures, expiration dates for driver licenses, identification cards, vehicle registrations, and safety and emission inspections scheduled to expire from March 16, 2020 through March 31, 2020 will be extended until April 30, 2020.
The Transportation Safety Administration recently announced that they would continue to accept driver licenses and ID cards that expired after March 1 as a valid form of identification at airport security checkpoints. More details are available at www.tsa.gov/coronavirus.
---
VOTE-BY-MAIL OPTION FOR UPCOMING ELECTION
In order to limit in-person contact during the upcoming Primary Election currently scheduled on April 28, more voters may be interested in voting by mail. Voters will have this option as part of a new law that was approved last year that included some of the most significant changes to the state's election laws in decades.
Voters can learn more about how to vote by mail at VotesPA.com/ApplyMailBallot.
---
WESTMORELAND COUNTY RESOURCES

Westmoreland County Courthouse
2 N Main St, Greensburg, PA 15601
(724) 830-3000
Coronavirus COVID-19 Updates
Excela Health Westmoreland Hospital
532 West Pittsburgh Street, Greensburg, PA 15601
724-832-4000
View Website
Excela Health Latrobe Hospital
One Mellon Way, Latrobe, PA 15650
724-537-1000
View Website
Excela Heath Frick Hospital
508 South Church Street, Mount Pleasant, PA 15666
724-547-1500
View Website
Westmoreland County Community College
145 Pavilion Lane Youngwood, PA 15697
724-925-4000
View Website
Currently offering remote classes only
Westmoreland County Chamber of Commerce
241 Tollgate Hill Road Greensburg, PA 15601
724-834-2900
View Website
PA CareerLink Westmoreland County
151 Pavilion Lane Youngwood, PA 15697
(724) 755-2330
---
FAYETTE COUNTY RESOURCES

Fayette County Courthouse
61 East Main Street, Uniontown, PA 15401
(724) 430-1200
Coronavirus COVID-19 Updates
Uniontown Hospital
500 West Berkeley Street, Uniontown, PA 15401
(724) 430-5000
View Website
Highlands Hospital
401 East Murphy Ave.
Connellsville, PA 15425
(724) 628-1500
View Website
Fayette County Chamber of Commerce
724-437-4571
View Website
PA CareerLink Fayette County
112 Commonwealth Dr. Suite 201 Lemont Furnace, PA 15456
(724) 434-5627
---
SOMERSET COUNTY RESOURCES

Somerset County Courthouse
111 East Union St. Somerset, PA 15501
(814) 445-1464
Coronavirus COVID-19 Updates
Somerset Hospital
225 S Center Ave, Somerset, PA 15501
(814) 443-5000
View Website
Somerset County Chamber of Commerce
601 North Center Avenue Somerset, PA 15501
814-445-6431
View Website
PA CareerLink Somerset County
6022 Glades Pike, Somerset, PA 15501
(814) 445-4165
---
LOCAL BUSINESSES STILL OPEN & UPDATED HOURS

RESTAURANTS / FOOD / BEVERAGE
G&D Market
Hours: Seniors Only: 8 am-9 am, Standard Hours: 9 am-8 pm
Notice: Please refrain from leaning on counters and bringing children into the store.
Address: 1300 Indian Creek Valley Road Melcroft, PA 15462
Phone: 724-455-2720
Highlands Market
Hours: Friday – Saturday: 7:30 am – 8 pm, Sunday – Thursday: 7:30 am – 6 pm
Services: Open for takeout and grocery services, call ahead to place takeout order
View Menu: https://s3.amazonaws.com/ogden_images/www.7springs.com/images/2020/03/Highlands-Market-Takeout-031820.pdf
Address: 231 County Line Rd, Champion, PA 15622
Phone: 814-352-2046
Nino's
Hours: Wednesday-Sunday 3pm-8pm
Services: Carry Out / Curbside Pick-up
View Menu: http://thelaurelgarden.com/wp-content/uploads/2010/09/NINOSTAKEOUT2020.pdf
Address: 546 Three Mile Hill Road Mount Pleasant, PA 15666
Phone: 724-547-2900
Out of the Fire Cafe
Hours: 12pm-7pm
Services: Carry Out / Curbside Pick-up / Beer & Wine
View Menu: https://www.outofthefirecafe.com/carry-out-curbside/
Address: 3784 State Route 31 Donegal, PA 15628
Phone: 724-259-8887
Email: outofthefirecafe@gmail.com
See-Mor's All Star Grill
Hours: 8am-8pm
Services: Carry Out / Curbside Pick-up
Address: 546 Three Mile Hill Road Mount Pleasant, PA 15666
Phone: 724-455-2500
The Country Pie Shoppe
Hours: 6am-8pm
Services: Carry Out / Curbside Pick-up
Address: 3822 State Route 31 Donegal, PA 15628
Phone: 724-593-7105
*********************************
FINANCIAL
PNC Bank Donegal
Hours: Mon-Friday 10am-5pm, Saturday 9am-1pm
Services: Essential appointments are available on designated days of the week for safe deposit box access, loan closings or other banking services that cannot be delivered through the drive‑up, by telephone, through our ATM network or via mobile or online banking.
Address: 3643 PA-31, Donegal, PA 15628
Phone: 724-593-7900
Shari Bukovac Bookkeeping
Hours: OFFICE CLOSED
Services: Income tax clients, please rest assured that your taxes will either be completed on time or we will file the necessary extension form by the deadline. We will contact about getting your completed to you.
Phone: 724-455-3897
Somerset Trust Company
Hours: Mon-Friday 10am-2pm
Services: Primarily drive-thru only services. Appointments may be made for other services.
Address: 151 W Main St  Somerset, Pennsylvania 15501
Phone: 800-972-1651
*********************************
REAL ESTATE
Al Meucci Real Estate
Hours: OFFICE CLOSED
Services: Agents are still available to assist through e-mail and phone.
Phone: 814-352-7669
Email: champion@almeuccirealestate.com

*********************************
SERVICES
Boss Bear Creative
Services: Emergency marketing strategies for small businesses to stay afloat during COVID-19, FREE COVID-19 related update on your website, crisis discounts and zero-interest payment plans offered.
Website: www.bossbearcreative.com
Phone: 724-961-0053
Email: lace@bossbearcreative.com
Four Seasons Homestead Maintenance, LLC
Hours: Vary as needed
Services: Property maintenance, household repairs, lawn care, snow plowing
Phone: 717-491-5722
E-mail: fourseasonshomestead@gmail.com
JB The Computerman
Services: Remote access computer repairs: all repairs/tune-ups/updates done remotely whenever possible.
Phone: 724-454-2887
Email: jbthecomputerman@gmail.com
LHTC Broadband
Offices Closed: All payments must be mailed
Letter from President, Jim Kail
Petite Feet Pet Care
Hours: 24/7
Services: In-home pet care, pet sitting, dog walking, farm care and more. New services: pet taxi to and from vet appointments, medication delivery, pickup and delivery of pet foods and supplies. Up to 50% discounts for healthcare workers and first responders during COVID-19 crisis.
Website: https://petitefeetpetcare.com/covid19
Phone: 724-423-3229
E-mail: mylyssa@petitefeetpetcare.com
---
LOCAL EMPLOYMENT OPPORTUNITIES
A statewide job search can be performed through PA Career Link at www.PAcareerlink.pa.gov.
PA State and Local Government  Jobs (Civil/Non-Civil Service) at www.employment.pa.gov.
U.S. Census Bureau
Despite the virus, the US Census still needs workers!
Rate: $18-$20 per hour
Benefits: Extra income, flexible hours, weekly pay, paid training
How to Apply: Online at 2020census.gov/jobs or call 1-855-JOB-2020
Mountain Pines Campground
1662 Indian Creek Valley Rd Champion, PA
Rate: Competitive
Positions: Lifeguards, Pool Attendants, Campground Store, Activities Staff, Housekeeping, Snack Bar, Grounds Keeper and Maintenance.
How to Apply: Applications available at the main gate or call 724-455-7411
---
FAITH BASED RESOURCES
Crtichfield Christian and Missionary Alliance Church
Everson New Beginnings Church of God of Prophecy
Mill Run United Methodist Church
Stahlstown United Methodist Charge
Christian Life Assembly (Melcroft)