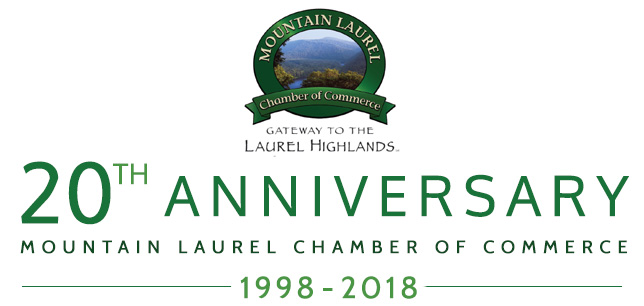 A fixture in the Laurel Highlands for two decades, the Mountain Laurel Chamber of Commerce's objective is to enhance the community and offer support for local economic development.
The non-profit organization strives to promote local businesses and community events and increase awareness of issues important to the communities they serve.
"It's hard to believe it's been twenty years already," said Kris Enberg, Chamber Executive Director. "It's an incredible achievement. We've come so far over the years. It's wonderful to know that all of our hard work and diligence has paid off. We're all very excited."
There is much for the MLCC to celebrate as we reach this milestone anniversary, including the huge success of our monthly Gateway to the Laurel Highlands flyer. This free news periodical, with a circulation of nearly 10,000, features local businesses and informs both the community and visitors of the many exciting events taking place in the Laurel Highlands.
In addition to the flyer, we also offer an informative website loaded with valuable information about our chamber members, local community and networking events, such as the annual Ladies Day Bash and Golf Outing.
Another great feature recently added was the creation and production of an online wedding directory, LaurelHighlandsWeddings.com, promoting the Laurel Highlands as a premier 'destination wedding' location.
The MLCC has functioned as the community liaison with PennDOT and the Pennsylvania Turnpike Commission for the Route 31 reconstruction project.
"I think it's great that we're hitting our twenty year mark," said Joe Sarnelli, who has been involved with the Chamber since its inception. The owner of Sarnelli's Corner in Jones Mills, Sarnelli said he feels the MLCC offers a unique opportunity to those living and working on the mountain.
"Being involved is good advertising for local businesses and it's a great source of information for the community," he said. "It helps when we all work together; it's better for everyone."
Past President Tom Guiher said, "Living Treasures Wild Animal Park in Donegal and MLCC were both established in 1998 and share their 20th anniversary this year. The Chamber has been a big help to the continued success of my family business. MLCC has provided us connection with both the local community and tourism with the Chamber Flyer and the office and staff. It is recognized and respected by all levels of government, giving us a voice in issues that affect our community. I believe that networking through the chamber has helped my business grow. I appreciate all that the MLCC has done and continues to do to strengthen our community."
The MLCC will be celebrating their successes in the community during a 20th Anniversary Dinner, which is slated for Thursday, November 8th, in the Alpine Room at Seven Springs Mountain Resort.

"We wanted to do something nice to honor the occasion," said Kris. "I think it will be a lot of fun to get everyone together who has made such a great contribution to the Chamber."
Past and current Chamber members, board members and Chamber affiliates who have supported the organization over the years are encouraged to attend, and may contact the office to be included.
Additionally, community members and business owners interested in attending are also encouraged to reach out to Kris for an invitation.
"We hope people will come out and help us celebrate," said Kris. "There have been so many who have played a huge part in making the Chamber all that it is today. I consider myself blessed to have been with the Chamber for the last 19 years. The close community and the friendships I've made along the way are priceless, especially Shari Bukovac of Shari Bukovac Bookkeeping who has been my constant friend and mentor over the years. She continues to teach me that faith always wins over fear."
Kris said MLCC's success stems from the support of fantastic chamber members, a hardworking board of directors and an effective administrative team. Kris gives special thanks to Attorney Rob King for believing in the Chamber and gifting us with spacious and professional home away from home office space.

"It was said when the organization began twenty years ago and it still rings true today – there is no 'I' in 'we' – and that is how we continue to run the Chamber. The success of the organization can be credited to so many people who have been involved over the years."
Brenda Neiderhiser, owner of the Donegal Dairy Queen who has been a member of the Chamber since day one, said she enjoys the sense of community that comes with being involved with the Chamber.

"I've lived in the Laurel Highlands my whole life and I feel the Chamber has been a wonderful addition to the community," she said. "It's wonderful they've been here twenty years. I hope for twenty more!"
"We are so grateful for the continuous support of our Chamber members," Kris said. "A great many sponsors have committed to making our anniversary dinner a memorable event."
To date, Sponsors for the Chamber's 20th Anniversary Dinner include:
Robindale Energy & Associated Companies
LCT Energy, LP
Mountain Pines Campground
LHTC Broadband
Mountain Pines Campground
Somerset Trust Company
The Daily American
Seven Springs Mountain Resort
King Legal Group, LLC
Living Treasures Wild Animal Park & Log Cabin Lodge & Suites
Excela Health
Donegal McDonalds
Dipaola Quality Climate Control
Ridgeline Heating & Cooling Inc.
Appalachian Fluid Power
Abe & Wags Wagner/Berkshire Hathaway Homes Services
Cenkner Engineering, Inc.
G&D Market
Shari Bukovac Bookkeeping
Sarnelli's Corner
Donegal Dairy Queen