MLCC Welcomes
The Silver Penny

to the Chamber!

The Mountain Laurel Chamber of Commerce is pleased to extend a warm welcome to its newest member, The Silver Penny. The Silver Penny is a vintage home goods and fine used furniture store located at 3919 State Route 31 in Jones Mills.

"I've always had a love of buying and fixing up furniture," said owner Karen Temple, a life-long member of the Laurel Highlands community. "I've always enjoyed collecting unique pieces and giving them new life. It's my passion." Sometimes collectors bring in pieces for her consideration and other items she seeks out herself, Karen said. "Pretty much whatever catches my eye; I'm always looking to include new pieces."

Her unique, one-of-a-kind inventory includes refinished furniture, glassware, collectibles, crockery, wooden boxes and baskets.

Some of Karen's frequent clients are those interested in do-it-yourself projects. "Here at The Silver Penny, customers often seem to find that 'just-right' item to complete their project," she said. "Such as wooden boxes to use as shelving or wooden ladders for blanket racks."

With an ever-changing variety of eclectic items, everyone who visits is sure to find something special.

The Silver Penny has been a fixture in the community for three years, drawing a variety of clientele from local supporters to visitors passing through.

Hours of operation are 11 a.m. to 5 p.m. Thursday through Saturday and noon to 5 p.m. on Sunday. Karen urges anyone who would like to visit after shop hours to call 724-593-2090 to arrange for an appointment.

Visit The Silver Penny on Facebook to see samples of the Karen's work and keep up-to-date on changing inventory.

Karen will be offering great deals for the holiday season. Shoppers looking for that unique piece of furniture or to find the perfect gift for someone special are sure to leave satisfied.

"Shopping in the Laurel Highlands is a great way to support local businesses and to find those one-of-a-kind pieces that you can't find just anywhere," Karen said. "I hope to see everyone come out this holiday season."
---
MLCC Welcomes
K2 Engineering, Inc.

to the Chamber!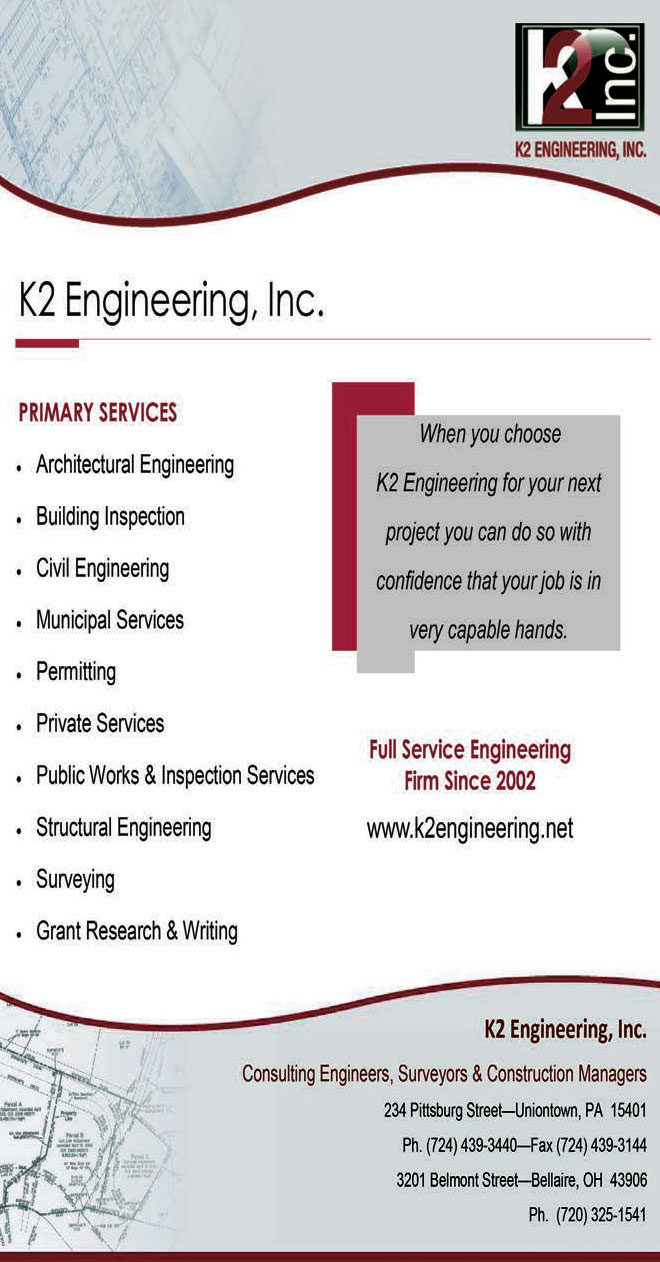 ---
MLCC Welcomes
Donna Tidwell with Vernon Realty Services

to the Chamber!

The Mountain Laurel Chamber of Commerce warmly welcomes new member Donna Tidwell, a realtor representing Vernon Realty Services in Ligonier.

"My commitment is to provide the most comprehensive, professional and caring service available in real estate," Donna said. "Everyone deserves an excellent real estate experience."

As an agent with over thirty-four years of experience, Donna Tidwell has worked with thousands of clients throughout Westmoreland County and beyond. "Interacting with my clients means so much to me," she said. "Seeing their delight and how happy they are when we find their dream home is priceless."

Donna excels at assisting her clients with all of their buying and selling needs. While she specializes in residential real estate, she is pleased to also offer her expertise in obtaining income properties and vacant land. With her thorough attention to detail and high turnover rate, Donna's services are often sought out by experienced investors and house flippers.

Donna recognizes the importance of strong staging and design choices and has a sharp eye for detail. As an agent, she works tirelessly, getting homeowners the most for their real estate properties and helping individuals and families find the perfect home.

Buying or selling a real estate property is one of the most important transactions in one's life and Donna is a professional who has the experience, expertise and integrity to make the transaction as pleasurable and stress-free as possible.

Donna is a graduate of the Realtor Institute, a certified residential specialist and is certified in the National Association of Realtor's e-PRO program. Contact her today at donna@donnasoldit.com, 724-244-0470, or www.DonnaSoldIt.com to schedule an appointment.

"I bring a wealth of knowledge and expertise about buying and selling real estate," Donna said. "It's not the same everywhere, you need someone you can trust for up-to-date information. I am committed to working hard and helping my clients every step of the way."
---
MLCC Welcomes
Trenthouse Inn Marketplace and Delicatessen Bed and Breakfast

to the Chamber!

The Trenthouse Inn was purchased by MaryAnn and Julianne Brown, a mother daughter team, in 2006. They have spent the last 12 years completely remodeling this 134-year-old historic landmark. Located at 2008 Copper Kettle Highway in Rockwood, the Trenthouse Inn is surrounded by 4,000 acres of picturesque state park grounds and is the ideal location for a cozy weekend getaway for two in the heart of the Laurel Highlands or for large group events.

The Trenthouse Inn offers catering, weddings, rehearsal dinners and private parties.

Visitors are sure to feel right at home while enjoying rustic, old world style in both their personal rooms and the common areas at the Trenthouse Inn, which include a parlor, library, formal dining room, and kitchen. Additional amenities include free parking, air conditioning, wireless internet, Direct TV, and a complimentary gourmet breakfast. Outside features include a lovely patio with a bar and a fire pit surrounded by a charming garden.

Only four miles from Seven Springs Mountain Resort and Hidden Valley Four Season Resort, the Inn is also conveniently located near Laurel Hill State Park, Ohiopyle, Falling Water and other exciting Laurel Highlands locations. An abundance of year-round activities offered throughout the area include whitewater rafting, hiking, biking, fishing, ATV trails, golfing in the summer and cross country skiing, snowshoeing and snowmobiling in the winter, festivals, wineries, antiquing and more.

The Trenthouse Inn is open for breakfast and lunch from 7:30 a.m. – 3 p.m. on Thursdays through Sundays and is well-known for its gourmet menu with including stuffed French toast, homemade potato and macaroni salads. Throughout the year several special dinners, such as New Year's Eve, Valentine's Day and Octoberfest, are hosted where guests are invited to bring their own alcoholic beverages to enjoy. "I love the opportunity to meet people from all over the world and cater to their needs," said MaryAnn Brown, "I really enjoy making others happy."

Brown has welcomed visitors from as far as France, Japan and Africa, but some of her favorite visitors are the locals who 'are like family' that come in regularly to enjoy her famously prepared breakfasts.

Call 814-352-8222 to stay and enjoy the best breakfast on the mountain.
---
MLCC Welcomes
Appalachian Fluid Power

to the Chamber!

Lifetime residents of the Laurel Highlands, Dale and Amy Knopsnider bring over thirty years of fluid power experience – with a specialization in hydraulics and pneumatics – to their customers. AFP supplies top quality products and services to a wide variety of mobile and industrial customers, such as – machine tool, mining, logging, oil and gas, material handling, excavating, construction and more.

"Our goal is to provide our customers with top quality products, competitive pricing and superior service – every customer, every order, every day," Dale said.

Located at 3364 State Route 31 in Acme, AFP carries products such as hydraulic and pneumatic cylinders, hoses and fittings, pumps, valves and motors, rotary actuators, and more. All of their quality products are available for shipping.

They provide the following professional services: Application and Start-up Assistance, On-site Trouble-Shooting, Component Interchanges, Remanufactured/Exchange Programs, Fluid Power Training, and Custom Hose Programs.

The Knopsniders have been offering their service to the Laurel Highlands community and beyond since 2004, when they started their family owned and operated business out of their garage in White. Dale holds a degree in Mechanical Engineering Technology from Penn State and has many years of experience in the field of hydraulics. As the business and team grew, so did the need for more space and in 2013 AFP made the move to its current Acme location. "We are both from the mountain, and it seemed like the perfect location for us," said Amy. Aided by Mindy Ream, Frank Kitta and Andrew Kinneer, along with their three sons who assist when needed, the Knopsniders continue to provide excellent service locally.

"What we mostly enjoy about having a business here is seeing the folks we know and meeting those we don't," Amy said.

Call 724-593-8333 or visit the Appalachian Fluid Power website for more information: www.appalachianfluidpower.com. Office hours are Monday thru Friday, 8 a.m. to 5 p.m.
---
MLCC Welcomes
Aflac

to the Chamber!

The newest member of the Mountain Laurel Chamber of Commerce, Aflac representative Krysta Cornelison is committed to educating people about the company and how it can help provide financial protection to both companies and individuals.

"I love this company and what it stands for," the Greensburg resident said of the company, which provides supplemental insurance to put your mind at ease. "I want people to be aware there are options out there to protect their families, and I would love to help them learn more."

Aflac offers Insurance Services to policyholders, enabling them to focus on recovery, not financial stress, in the case of injury or illness.
It provides supplemental insurance that pays cash to its policyholders when illness or accidents strike. Aflac gives peace of mind for the 'what ifs' in life. When a policyholder or insured gets sick or hurt, Aflac promptly pays cash benefits, often in one day for eligible claims.

"The rates are very reasonable and the payouts are generous," Krysta said. "We have products ranging from Accident Coverage to Cancer and Critical Illness that are designed to offset the out-of-pocket costs associated with those occurrences." Additional services include Short Term Disability, Life Insurance, Dental and Vision.

Krysta has a vested interested in Aflac, having seen what the company can do for families' members who have been sick. "It's personal for me. I've seen it help people close to me, and I believe in it whole-heartedly," she said.

Aflac has been providing financial protection to more than 50 million people worldwide for over six decades. The company is group-focused, meaning companies of three or more employees, however some policies are offered on a direct basis. Recently, Aflac as a company has been very employer-focused. "We want to help you build that more robust benefit package for your employees to make them more loyal employees," Krysta said of the policy which is set up as payroll deductions for employees, though recently many employers are offering defined contributions for their staff. "Just giving employees $10/pay toward policies of their choice has made a huge difference in some of my recent clients' retention and loyalty numbers," she added. Policies are free of charge to implement.
Krysta works in the Irwin office, owned by Regional Coordinator Mike Fleming, and is available to work with anyone, anywhere.

"I have made it my mission to set myself apart from all other agents by forming solid relationships with my clients and making myself available for them 24/7," said Krysta, who can be reached at: (724) 787-0274 or krysta_cornelison@us.aflac.com. "I genuinely want to help people, and with the rising cost of healthcare, there has never been a greater need for Aflac."
---
MLCC Welcomes
SanaView Farms

to the Chamber!
Accelerated High Performance Retreat to improve the way you live and work.
Increase your energy, productivity, courage, confidence, motivation and joy at the upcoming Accelerated High Performance Retreat slated for October 17 – 19 at Pike Run Country Club in Jones Mills.
During the event, experienced wellness professionals will lead participants through proven strategies to efficiently achieve these life goals and more in an easy, productive way. The retreat is hosted by Wellness Expert and Motivational Speaker, Janet McKee, founder of SanaView Farms at Roaring Run – the newest member of the Mountain Laurel Chamber of Commerce – and Business Leader in Motivation and Retention, Bob Eckle.
"We feel it is important to let the local community know that this amazing program is happening right in their back yard if they feel they may like to participate," said McKee, a long-time visitor to the Laurel Mountains who purchased her Champion farm in 2012.
With a mission to inspire productivity and wellness, the Accelerated High Performance Retreat is geared toward individuals who wish to embrace a life-changing experience in an effort to achieve all that they want and more, and for companies who wish to improve employee morale and increase productivity.
Janet and Bob are known for leading expertly crafted workshops and inspirational talks to help participants unleash their greatest potential. "We will lead you through specific science backed strategies that get you immediate and positive results," Janet said.
The all-inclusive retreat is something new, creative and truly inspiring – unlike any other retreat you may have experienced before, according to McKee, a High Performance Success Coach and best-selling author.
Those wishing to register for or learn more about the retreat are encouraged to visit: sanaview.com/events. A special program discount is being offered to local residents who wish to attend and can be obtained by contacting Janet directly.
Janet McKee is devoted to inspiring others to Embrace a Better Life by teaching proven methods to achieve greater levels of energy, engagement, joy and confidence.
Breathtaking in both its beauty and goals, SanaView is a truly magical place that encourages wellbeing and living in balance with nature. With over 50 acres dedicated to healing, nutrition and recovery, the historic landmark farm nestled in the Laurel Mountains of Champion, is available to reserve for weddings, events and workshops.SanaView Farms also hosts many of its own events including farm-to-table dinners, organic gardening workshops, wellness retreats and fundraisers.
If you are interested in holding a special event, attending a workshop or having your own personal private retreat at SanaView Farms, be sure to contact Janet at (724) 417-6695 or via email at janet@sanaview.com.
---
MLCC Welcomes
Estate Assurance, Inc.

to the Chamber!

Based in Latrobe, the comprehensive financial planning firm focuses on retirement planning and offers all lines of insurance to support clients of all age ranges.

"It's never too early to start saving for retirement," said Jr Partner Consultant Jessica Shawley, who has been with the company for over a decade. "Even children can begin to learn about saving and budgeting."

Estate Assurance is a Comprehensive Financial Planning office which means they offer the following services in addition to retirement planning – Taxes and Accounting services, both personal and Business, Comprehensive Estate Planning, Life and Long Term Care Insurance, Health Insurance – including Medicare options, Property and Casualty insurance – which includes Home, Auto and Business insurance.

"Knowing that I've truly helped those that I meet is the best part of my job," Jessica said. "We're not just an office of employees; we're a family. Our goal is helping people achieve their dreams and that is something we're really proud of."

Consultations are free of charge to all clients and educational seminars are offered monthly by the professionals at Estate Assurance. Those interested are encouraged to follow their Facebook page or call the office at 724-532-1884 for dates and times.

With an ever-changing industry, Estate Assurance has specialists covering a variety of financial areas to ensure all client needs are met, no matter what their situation.

Owner's Kenneth Glenn and Sharon Wilkins-Glenn began the business over thirty years ago, with Sharon 'making taxes less taxing' for nearly 40 years.

Being an Independent, the office is not a captive agent of any one specific carrier.

"We're licensed with many different companies which allows us to give our clients the best solution for their needs at any given time," Jessica said.

Estate Assurance is licensed in several states, including Florida, so the team can "service our snowbirds, even when they fly south in the winter."

Team members continue educational practices regularly and remain up-to-date on any and all laws changes pertaining to financial planning and the insurance industry as a whole.

"We don't just help people retire, we help people catch their dreams," Jessica said. "Ask me how we can help you secure your retirement and create a private pension. The best years are yet to come, don't spend them worrying!"
---
MLCC Welcomes
Brenda's Family Restaurant

to the Chamber!

Located in Mill Run, Brenda's is a family style restaurant that specializes in homemade meals. "We make everything right here from scratch," said owner Brenda Reid. "I'm passionate about preparing food and pride myself on serving my customers only the very best, freshest options."

While many menu items are a hit, Reid said some customer favorites include her burgers, Rubens made with her own special dressing, meatloaf and spaghetti sauce. Homemade desserts include cinnamon rolls, old time berry cobbler and peanut butter pie.

Hours of operation for Brenda's Family Restaurant are currently 8 a.m. – 8 p.m. Beginning in May, hours will extend till 9 p.m.

Those who visit can order breakfast, lunch or dinner from the menu or enjoy the weekend buffet options. Three different types of homemade soup and salad fixing will be offered on the Soup and Salad Bar from 11 a.m. – close on Friday, Saturday and Sunday. Additionally, a Dinner Buffet will be available Sundays beginning at 11 a.m. The buffet will include a variety of meats, veggies, and potatoes, along with the Soup and Salad Bar.

Located in Indian Head for a decade, Brenda relocated to the new Mill Run location two years ago. "This will be our second summer in Mill Run and we're very excited," she said. "I just love being a business owner in the Laurel Highlands. I'm very lucky. I love people and the locals are amazingly supportive."

Brenda invites customers to visit the restaurant's Facebook page or call 724-455-3753 to learn about weekly specials being offered.

She would also like to offer the opportunity for her patrons to take advantage of an amazing health and wellness program, Isagenix. "I want to share with people how truly wonderful they can feel with this nutrition cleansing system," said Brenda. "I was in a bad place medically. After doing Isagenix for about seven weeks, I felt like a new person. Now I'm off medications and more active than ever. The arthritis in my hands is gone. I'm in the best shape of my life. I'm passionate about helping people learn about this cleanse which removes toxins and rids the body of inflammation." Brenda can be reached at 724 433-4304 or reached on Facebook to answer questions and help you begin the process.
---
MLCC Welcomes
Time for Social Media

to the Chamber!

Time for Social Media, the newest company to join the Mountain Laurel Chamber of Commerce, is pleased to offer businesses in the Laurel Highlands and beyond the opportunity to increase their overall social media exposure.

"At Time for Social Media, we believe that the power of the web can transform the way businesses communicate with their valued customers," said president and founder Vincente Rodriquez. "Our goal is to help small to mid-sized businesses generate significant increases in company sales and profits from an increased online presence." With over 20 years of experience in marketing and sales, Vincente is confident in the services he offers, which include campaign management, coaching, seminars and web design.Learn how to expand your business on Facebook, LinkedIn, SnapChat for Business, Twitter, Periscope, Blab, Google Plus, FourSquare, Yelp, Swarm, Instagram, Pinterest and more. "By connecting people, businesses can make more personal and stronger connections," Vincente said. "We aim to simplify digital interactions with our clients."

Qualified professionals from Time for Social Media advise individuals and businesses across the United States on the importance of properly using social media and different techniques to achieve their ultimate goals.

Learn more about developing a strategy for getting your business's message out with the greatest potential for social media engagement through digital advertising.

Explore services offered to assist with managing on-line campaigns and search engine optimization, and obtain coaching to maintain your strategic plan.

Social media continues to have a profound effect on marketing, and the use of this channel for marketing purposes is rapidly growing, Vincente said. "Helping small businesses succeed is important to me. It's all about teaching people to keep up with technology so they don't fall by the wayside."

Vincente holds degrees in Business Finance, HR Management, and Marketing. He opened Second Chance Marketing, LLC – the parent company of Time for Social Media in 2009 and continues to expand his services. He is passionate about staying on top of the ever-changing digital world.

Benefits of utilizing Time for Social Media include connecting to a wider audience, monitoring online reputations and trends, utilizing online services and mobile apps to promote and spread messages and agendas.

Contact Vincente Rodriquez at vince@timeforsocialmedia.com or (724) 382-8284 today to schedule a consultation or visit www.timeforsocialmedia.com for more information.
---
MLCC Welcomes
Mountain Pines Campground

to the Chamber!

From S'mores under the stars to games of goofy golf, Mountain Pines Campground offers families a camping experience they won't soon forget.

Located at 1662 Indian Creek Valley Rd. in Champion, Mountain Pines is one of the finest RV Resorts in the region and offers fun for the whole family.  A new member of the Mountain Laurel Chamber of Commerce, Mountain Pines provides a variety of camping options in the Laurel Highlands. In addition to tent campsites and full hookup sites, Mountain Pines offers cabins – both primitive and deluxe – and lodge rentals.

"We strive to make the park family friendly and include exciting activities to keep our guests entertained," said Susan Dugan, a representative from the park.

There are plenty of on-site amenities that are included at no additional cost to keep guests entertained. Amenities include a stocked trout stream, 18-hole miniature golf, a dog park, a jump pad and lighted courts for basketball, tennis, volleyball. Additionally, the campground boasts the area's largest outdoor swimming pool, as well as an indoor, heated pool. A game room and snack bar are available to guests at an additional cost.

"Mountain Pines is such a great place to visit," said long-time employee and camper Lisa Shirley. "We provide the entertainment but the campground is what it is because of our wonderful campers – they become like family."

Throughout the season, a variety of themed events, activities and entertainment options are offered at Mountain Pines. Guests are encouraged to plan a visit around their favorite themed weekend, beginning on May 4 with a Cinco de Mayo celebration. Additional themed weekends include Spring Has Sprung, Mt Pines Carnival, Fishing Frenzy, Petsapalloza, and Get Your Motor Running – which includes an annual car show. Many of the themed weekends include live band performances. The full schedule can be viewed on the Mountain Pines Campground website at: www.mountainpinescamping.com.

Call (724) 455-7411 to make your reservation today!

"We hope to have many families take advantage of all the exciting seasonal activities and events happening at Mountain Pines Campground throughout the season," Susan Dugan said.
---
MLCC Welcomes
No Boarders Pet & Animal Care

to the Chamber!

The family owned and operated business has been offering a unique pet and animal care service to families in western PA for the last four years. An alternative to a traditional boarding situation, professionals from No Boarders provide daily, weekly or overnight pet and animal care at a family's home or farm while owners are away on vacation or at work. The arrangement is convenient for owners, and pets are able to stay where they are comfortable – at home.

"We love animals, and it shows in our care," said Trent Bocan, who owns No Boarders with wife, Pam. "Our clients have been extremely pleased with our affectionate, caring and professional manner."

New to the Laurel Highlands, the Bocans said they look forward to seeing their business grow in the region. They currently have clients that include horses, donkeys, pigs, chickens, cats and dogs.
"We have owned a variety of pets and are comfortable and experienced in taking care of animals large and small, including animals that clients have had difficulty finding a service for due to aggressive behavior," Trent said.

Professionals at No Boarders will administer medication for clients as needed, provide Pet Owner Emergency Management and pet and animal transportation – local or extended, including travel to and registration for airport travel. The standard rate for a single visit is $25 and No Boarders works hard to ensure all their client's needs are met. "We try to work with clients to stay within their budgets during vacations and overnight care, and for transportation needs. We pride ourselves on being a professional service with excellent communication. Clients count on us to love and care for their most prized possessions, and we send a text with a picture and update with each visit," Trent says.

No Boarders employees take the time to get to know a client's pet prior to the first date of service. Each arrangement begins with an introduction visit and a document reviewing the schedule for services and specific details requested by the client. No Boarders carries professional liability insurance and their services are insured.

"We started No Boarders due to our love in working with animals and helping others – and we enjoy every visit!"
---
MLCC Welcomes
Laurel Home Improvement

to the Chamber!

Laurel Home Improvement is available to assist with all of your steel roofing and siding needs.

"We offer problem solving solutions to fit our customer's best interests, needs and value," said owners Jeff and Heather Lape.

Since 2006, Laurel Home Improvement has been doing remodeling and general construction in the Laurel Highlands and beyond. In 2012, they shifted their business to focus solely on roofing and installing seamless gutters. "We are professional installers of various types of steel roofing including standard 3 foot wide metal sheeting, standing seam, and metal shingles," Jeff Lape said. "We also do other various types of pole barns/buildings and steel siding."

Laurel Home Improvement offers free estimates and would be happy to visit your business or residence to learn about your roofing needs.

Contact Laurel Home Improvement today at (814) 483-6186 or via e-mail at lhibuilders@gmail.com to schedule an appointment. "We are a small company that values the needs and thoughts of our customers," says Jeff, who oversees every project personally.

As a small business owner, Jeff said he depends on word-of-mouth from previous and current customers to get the word out about Laurel Home Improvement. He is happy to be a new chamber member and looks forward to serving those in the Laurel Highlands area.