'Spend Time With People You Like' at
Big Buck Lodge
When it comes to lodging for your Laurel Highlands wedding, plan on embracing the mountain experience in style by arranging your stay at Log Cabin Lodge and Suites.
Located along Route 711 in Donegal, Log Cabin Lodge and Suites offers a variety of options to those planning their happily ever after. From intimate, romantic quarters for the newlywed couple, to comfortable and convenient multi-bedroom suites for out-of-town family and friends, Log Cabin has it all.
A brand new addition to the facility, Big Buck Lodge, is a spacious and stylish space that allows families the opportunity to spend quality time together during their stay, while maintaining privacy by offering individual sleeping quarters. Big Buck Lodge contains the perfect amount of space for loved ones to enjoy their time together during their visit to the Laurel Mountains.
Contemporary and sleek with modern décor, Big Buck Lodge provides the perfect experience to 'Spend Time with the People You Like.' Each spacious unit includes 4 bedrooms (3 king beds, 1 queen bed), 3 full bathrooms, a fully equipped kitchen, comfortable living room and a large dining area. Big Buck Lodge A comes equip with a fireplace, ping pong table, washer, dryer and dry sauna; while Big Buck Lodge B offers a washer, dryer, fireplace, pool table and an outdoor hot tub. An onsite staff strives to provide guests with the utmost customer service. Check in time at Big Buck Lodge is 4:00PM, check out is 11:00AM. The suite can accommodate up to 18 guests.
"As a family friendly lodge, we wanted to offer the opportunity for families to gather in the same unit, while allowing them to also have personal space," said owner, Tom Guiher. "At Big Buck Lodge, guests can come together and share quality time and meals in the common space provided by the suites, yet maintain the privacy of their own bedrooms. I feel we really accomplished what we set out to do."
Comfortable and spacious individual rooms are also available at Log Cabin Lodge. With a warm rustic glow, the lodge offer the charm of a log cabin with the luxury of modern amenities. Every room in the motel is unique, and much of the furniture has been built out of white pine logs by local craftsmen.
Visit www.logcabinmotel.com or call 724-593-8200 today to learn more about the overnight accommodations available at Log Cabin Lodge and to arrange your unique lodging experience in the Laurel Highlands.
"We know guests will enjoy their stay with us and that is our goal," Tom said. "We look forward to your visit."
---
MLCC Welcomes
Bella Florals

to the Chamber!

The newest member of the Mountain Laurel Chamber of Commerce, Bella Florals, is a boutique florist that specializes in beautiful custom arrangements for any occasion. Sisters and Stahlstown natives Dayna Musto and Juli Tomsic are committed to providing upscale flowers and arrangements with a unique attention to detail. "We love working with clients to incorporate special touches so that their flowers are the highlight of their day," Dayna said. "We specialize in outside the box, unique, and memorable florals for any event or environment."

Offering both fresh and permanent botanicals, the experienced professionals at Bella Floras work hard to make magic happen. No matter the size of the wedding or event, the team is happy to accommodate your special requests.

View samples of stunning arrangements created by the professionals of Bella Florals at www.bellaflorals.com or make an appointment today by contacting Dayna at daynamusto@bellaflorals.com or 408-607-7621 to discuss any of your floral needs.

With locations in Washington and Stahlstown, Bella Florals services customers in Westmoreland, Fayette, and Washington and Allegheny counties.

"What we love most about owning Bella Florals is making a bride's or event organizer's vision come to life on an incredibly important day," Dayna said. "We feel honored to play such an important role." Dayna became involved in the floral business four years ago in San Jose, CA. Prior to starting her own business, she created wedding and event florals for friends and family for over 5 years. After returning home to the Laurel Highlands in 2018 and partnering with sister Juli, a talented permanent botanical artist and event designer, Bella Florals was created. Together they have since participated in wedding fairs, the Big Fake Wedding in Pittsburgh, and have booked numerous weddings for both 2019 and 2020.

Dayna and Juli aim to offer their customers personal service with a special touch and stunning arrangement that won't break the bank. "We know that budget is a priority. Customers want the most for their money and we like to show them different ideas to make their event space special without spending a bundle. However, we never skimp on the flowers – we love to use unique and special flowers like garden roses, hellebores, protea, and peonies."

Knowing the importance of keeping up-to-date with wedding trends and events, Dayna and Juli attend workshops from award-winning designers to keep their inspiration fresh. They recently hosted their own workshop – a class for beginners. "It was clear to us that the attendees had talent and could easily adapt to working with fresh flowers," Dayna said. "We want to have more classes in the future – we are thinking of having a workshop on flower crowns, fall florals, wreath making, etc." Follow Bella Florals on Facebook to stay up-to-date on upcoming projects.
---
MLCC Welcomes
Moseye Graphics

to the Chamber!

Eye catching graphics and bold designs are a great way to provide a unique first impression and make it easy for customers to locate a business or learn about upcoming events. Moseye Graphics has been offering professional signs and banners, graphics design and printing shop services to the Laurel Highlands and beyond since their inception in 2017. The Mountain Laurel Chamber of Commerce is pleased to welcome this great business as our newest member.

Located at 500 Lloyd Ave. in Latrobe, the father and son run business is dedicated to providing customers a high quality product at a fair price with the best customer service possible.
"We will work with you every step of the way to make certain that you are getting exactly what you want for any of your sign, design, or printable needs," said owners Doug and Connor Brown.

Moseye Graphics specializes in banners and signs, window decals, pop-up displays, business cards, brochures and more. Using waterproof and tear-resistant media, they offer customizable items such as post and panel signs and yard games. The duo said a newer addition that has become popular with clients is a completely custom beer pong table. The popularity of the item has led to the creation of a 'Moseye Pong' Instagram account featuring their unique products. "Not only do we make awesome sings, we also design, make and install vehicle decals," Connor said. "Decals are a great way to promote your business, or add a unique personal touch to your own vehicles."

Doug and Connor are happy to work one-on-one with clients regarding printing on any item – such as hats, pens, etc. – and will always look into options to get a customer a great product at a great price. With over forty years of graphic design experience, customers are sure to be pleased with any product purchased at Moseye Graphics.

"We love working with people who are upfront and honest," Connor said. "We are very transparent in our business and I get the impression most people in the Laurel Highlands area are the same way. There's no secret agenda – they tell you what they want, how they want it. Those are the kinds of businesses and clients we like dealing with most."

Moseye Graphics is currently offering customers several specials:
*spend $250.00 and receive 250 business cards for free
*single-sided yard signs with stakes are $10 per sign when ordering 15 or more

Let Moseye Graphics assist with all of your advertising needs! Contact Connor and Doug today at 724-836-4500 or moseyegraphics.com to learn about their one-of-a-kind creations.

"We are so thankful to all of our great customers for their support,"said Doug and Connor. "We can't wait to keep providing the best signs, printing, and designs around!"
---
MLCC Welcomes
PNC Bank – Donegal

to the Chamber!

Conveniently located along Route 31 in Donegal, PNC Bank has been providing financial and banking services to individuals, families, and businesses for over thirty years.

"PNC Bank Donegal is dedicated to partnering with individuals, families, and business in our local area to improve their financial wellbeing," said branch manager, Karl Sherbine.
"We are committed to helping residents in the community borrow, save, and invest for their short and long term needs. Additionally, we enjoy working with many local businesses – both in their daily banking and their future planning and expansion."

Banking with PNC Bank Donegal is a smart choice for checking, online banking, bill pay, credit cards, auto loans, home loans and investments. From borrowing and investments to retirement and wealth management, PNC Bank has been providing clients with great service and powerful financial expertise for more than 160 years.

PNC Bank boasts a longstanding history of supporting not only their customers but also their communities, employees and shareholders. "I became the manager of PNC Bank in Donegal in September of 2018 and really enjoy the customers and people in our area," said Karl Sherbine. "I'm excited to be a deeper part of the community and am always available to learn what people strive for in life."

Hours are 9 a.m. to 4 p.m. Monday – Thursday and 9 a.m. to 5 p.m. Friday. The facility is closed Saturday and Sunday.

Visit PNC Bank Donegal today and allow the friendly, professional staff to help you meet your financial goals.
---
MLCC Welcomes Buffer Creek Sporting Clays,
Inc. to the Chamber!
Located on Brendle Farms in Somerset, the facility has been offering both youth and adults the opportunity to hone their shooting skills since its inception in 2004. The rolling hills and wooded acreage of the family owned and operated facility are the perfect, pristine location to target shoot.
"At Buffer Creek Sporting Clays, we provide a safe atmosphere for both new and experienced shooters," said Will Brendle. "We offer the opportunity at a low cost that appeals to a larger group of people."
Yearly memberships are available at a cost of $25, and provide perks including discounted target rates and guest passes. Range time is available, however, to both members and non-members.
A variety of target package deals are available and league shooting opportunities are available at Buffer Creek.
"I recommend the sport because sporting clays are a good place to start for those interested in shooting – it's easy to learn and highly addictive," Brendle said. "Once we get people to try it, 95% love it and come back again and again."
The facility includes a course designed by one of the top sporting clays course designers in the country. Included are 25 stations, 15 of which have promatic traps and long range wireless releases, a 5-stand and pyramid wobble trap,
Gun and cart rentals are available and ear and eye protection are required. Hours of operation are 9 a.m. to dusk daily, weather permitting.
A variety of registered and charity shoots are slated for the 2019 season at Buffer Creek. The organization is proud to have hosted both the 2013 and 2018 Pennsylvania State Sporting Clays Championship, the largest state championship to date. They are pleased to announce that they will also be hosting the 2019 State Sporting Clays Championship on July 18 – 21. The event will kick-off with PA State Warm-Up Days on June 29 and 30.
Other upcoming event include:
*Summer 250 (NSCA and PSCA registered) on June 29 – 30
*Laurel Highlands Mountain Classic on August 3 – 4
*Summer's End 250 (NSCA and PSCA registered) on September 7 – 8
Buffer Creek hosts a bi-monthly Thursday night prime rib dinner from May – Oct. Summer dates include June 13 and 27; July 11 and 25; and August 8 and 12.
Large pavilions located on the grounds are available to rent for private events with catering options for those interested. Reservations are required for large groups or overnight stays. The lodge is heated with a full kitchen and rental includes hookups for up to eight motor homes. Capacity is limited to 60, but a covered porch is available with room for 30 additional guests.
For reservations and shooting times, call 814-443-3141 or email: info@buffercreeksportingclays.com
---
MLCC Welcomes
Thistledown at Seger House

to the Chamber!

The newest member of the Mountain Laurel Chamber of Commerce, Thistledown at Seger House is a stunning early 20th century mansion turned boutique hotel located just minutes away from Donegal and the PA Turnpike in beautiful downtown Ligonier.

The luxury Inn features eight guest rooms in-house with a ninth in the spacious carriage house. Each room includes a private bathroom. The atmosphere is family friendly, welcoming and private. Guests staying at Thistledown are sure to enjoy the truly luxurious accommodations – crystal chandeliers, fireplaces and walk-in showers, along with modern conveniences such as satellite TV and Wi-Fi internet.

A spacious guest lounge on the first floor features a fireplace and allows an intimate location for small gatherings, a place to work, play board games or cards, or just unwind and watch TV. The second floor landing offers guests complimentary coffee and tea, and wine glasses are available.

Locally owned and maintained by Adam and Michelle Gardner, an extensive amount of pride and care go into everything that makes Thistledown special.

"It's been a terrifically adventurous six years of owning the Inn," said Adam and Michelle. "We love meeting people from all over the world and discovering what brings them to the Laurel Highlands – usually it is one of the many attractions that draws people to our area: Flight 93 Memorial, Fallingwater, Fort Ligonier, hiking, biking and skiing Laurel Mountain. We are all blessed to have the natural resources that we do."

Built by coal baron John Seger in 1915, Thistledown has deep historic roots in Ligonier. Converted into a hospital and then a private health facility, many local residents were born or received medical care inside the red-sandstone mansion. Now beautifully restored, the original stained-glass windows on the upper floors offer a colorful glimpse of the past.

Breakfast is available in the building at Myriam's Table Cafe or any of the other fine establishments in beautiful downtown Ligonier.

Thistledown is handicap accessible with an elevator available and a designated guest room to accommodate their needs.

Guests are welcome to book their stay on the website: www.thistledown.com. Early reservations are recommend for the best availability. For more information, call 724-238-4087.

"With accommodations this cozy, you might just forget you're not home," said Michelle Gardner. "Our historic mansion is a special place where memories are made. A stay at Thistledown isn't just a stay; it's an experience."
---
MLCC Welcomes
Ramada Ligonier

to the Chamber!

Conveniently located at 216 West Loyalhanna Street in the heart of historic Ligonier, the Ramada Ligonier provides guests with a truly welcoming atmosphere during a stay in their home away from home – with convenient amenities and a friendly, knowledgeable staff.

Celebrate the mothers in your life during Ramada Ligonier's Mother's Day Brunch on Sunday, May 12. Seating is from 10 a.m. to 2 p.m. Guests will enjoy carved roast beef and roasted turkey, a waffle and omelet station, breakfast items and pastries, honey almond chicken, English style cod, many delicious sides, a dessert table and more. Cost is $22 for adults, $11 for children 3-10, free for children under two and under. Reservations can be made by calling: 724-238-9545.

Visitors who stay at the Ramada Ligonier will enjoy clean, comfortable accommodations at a fair price. Rooms include complimentary Wi-Fi, flat-¬screen TVs and coffeemakers. Suites add living areas and microwaves, pull-out sofas, mini fridges and several even feature whirlpool tubs.

Ramada Ligonier offers guests a complimentary hot breakfast buffet with eggs, waffles and many other breakfast favorites, and unlimited use of the facility's outdoor, heated pool and fitness room. A business center and meeting room allows working guests the opportunity to conduct business during their stay.

For lunch or dinner options, guests are encouraged to visit the Bistro Restaurant & Bar, a casual bistro-style eatery in the building which serves a menu of American cuisine, including steaks, pasta, fish and chicken dishes, burgers, sandwiches, and homemade pizza. The Bistro also offers a full bar with cocktails, wine, and beers – including some local brews. The Bistro is open seasonally Monday through Saturday beginning at 4:30 p.m.

A variety of package options are available at the Ramada Ligonier – including a Romantic Retreat Package, a Frank Lloyd Wright Fallingwater Tour Package, Wedding Packages and more. Additionally, the facility has banquet space available for weddings and special events.

Ramada Ligonier owners – brothers Pradip and Nilesh Lineswala – are excited to share their love of the area with guests."Nilesh and I agree that people in other areas of the country do not realize how beautiful the Laurel Highlands are," Pradip said. "People need to know about this area and once they come here they will love it like we do. We look forward each day to the ride through the Loyalhanna Gorge. We have had numerous hotels between the two of us and we enjoy meeting people from everywhere and welcoming them to our hotel."

Contact the hospitality team at Ramada Ligonier today at 724-238-9545 to find out more about the best available rates for your stay or event.
---
MLCC Welcomes
Light on the Hill Outreach Church

to the Chamber!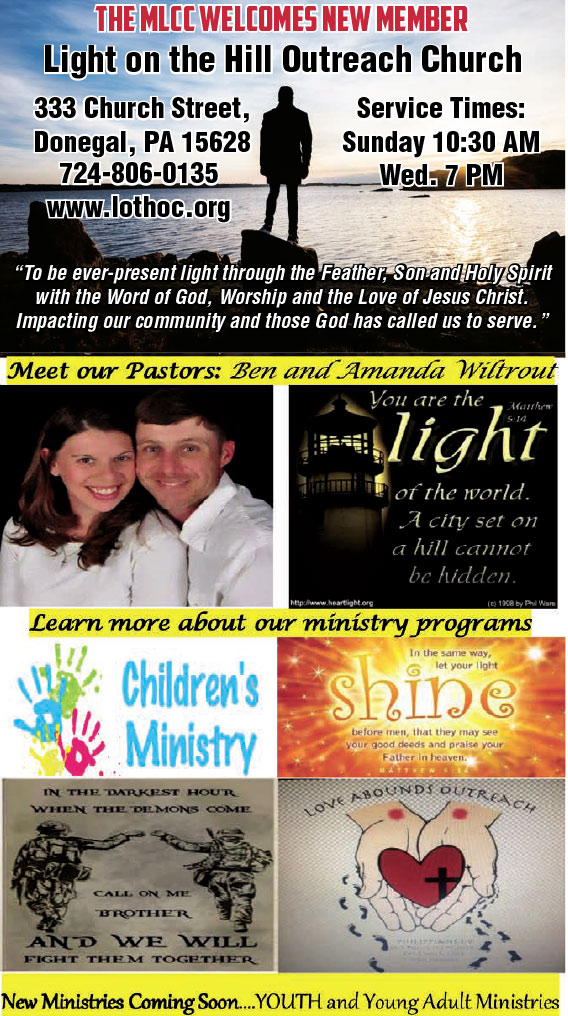 ---
MLCC Welcomes
BattleZone Family Fun Center

to the Chamber!

The first of its kind in the area, BattleZone Family Fun Center is a unique facility that offers quality fun for the whole family!

Located in the Latrobe Route 30 Plaza, the facility offers visitors a variety of exciting, interactive games featuring modified paintball guns. "We wanted to offer an alternative to X-Boxes and video games," said Adam Gardner, who founded BattleZone with brother, Bill Gardner. "Our goal was to provide a fun way for people to get exercise."

The owners of GOG Paintball in Latrobe said people of all ages have been enjoying the facility since its doors opened in January. "BattleZone is for anyone who likes to have fun," Adam said. "We have had corporate team building groups, adult birthday parties, church groups, sports teams, families, and of course lots of kid's birthday parties!" Private rooms are available to party-goers to enjoy cake and pizza after working up an appetite.

Games include: Battle Ball – Dodgeball, which requires participants to collect battle-balls to fire at the opposing team; Battle Ball – Castle Defense, in which players use balls and launchers to eliminate opponents while defending their own base; and Pickleball. Dubbed 'paintball without the paint or paint,' Pickleball players enjoy a version of capture the flag utilizing soft, flexible rubber balls. Unlimited ammunition is provided for all games.

The Gardners hope that BattleZone Latrobe will be the first of several such facilities in the Southwestern Pennsylvania area. "We are looking at a location north of Pittsburgh, but nothing has been finalized as of yet," Adam said.

At $13 per person for one hour or $20 for two hours of play time, BattleZone is affordable fun for the whole family.

Participants are encouraged to book their session prior to the day of play to ensure the fastest check-in process. A full group is not required to participate, as guests are paired up with others to play.

BattleZone Family Fun Zone hours of operation are: Friday 6-9 p.m.; Saturday 10 a.m. – 9 p.m. and Sunday noon – 6 p.m. Additional summer hours are expected to be added. For more information or to make a reservation today, visit their website at www.battlezonelatrobe.com, call (724) 804-5136, or follow them on Facebook.