MLCC Welcomes Buffer Creek Sporting Clays,
Inc. to the Chamber!
Located on Brendle Farms in Somerset, the facility has been offering both youth and adults the opportunity to hone their shooting skills since its inception in 2004. The rolling hills and wooded acreage of the family owned and operated facility are the perfect, pristine location to target shoot.
"At Buffer Creek Sporting Clays, we provide a safe atmosphere for both new and experienced shooters," said Will Brendle. "We offer the opportunity at a low cost that appeals to a larger group of people."
Yearly memberships are available at a cost of $25, and provide perks including discounted target rates and guest passes. Range time is available, however, to both members and non-members.
A variety of target package deals are available and league shooting opportunities are available at Buffer Creek.
"I recommend the sport because sporting clays are a good place to start for those interested in shooting – it's easy to learn and highly addictive," Brendle said. "Once we get people to try it, 95% love it and come back again and again."
The facility includes a course designed by one of the top sporting clays course designers in the country. Included are 25 stations, 15 of which have promatic traps and long range wireless releases, a 5-stand and pyramid wobble trap,
Gun and cart rentals are available and ear and eye protection are required. Hours of operation are 9 a.m. to dusk daily, weather permitting.
A variety of registered and charity shoots are slated for the 2019 season at Buffer Creek. The organization is proud to have hosted both the 2013 and 2018 Pennsylvania State Sporting Clays Championship, the largest state championship to date. They are pleased to announce that they will also be hosting the 2019 State Sporting Clays Championship on July 18 – 21. The event will kick-off with PA State Warm-Up Days on June 29 and 30.
Other upcoming event include:
*Summer 250 (NSCA and PSCA registered) on June 29 – 30
*Laurel Highlands Mountain Classic on August 3 – 4
*Summer's End 250 (NSCA and PSCA registered) on September 7 – 8
Buffer Creek hosts a bi-monthly Thursday night prime rib dinner from May – Oct. Summer dates include June 13 and 27; July 11 and 25; and August 8 and 12.
Large pavilions located on the grounds are available to rent for private events with catering options for those interested. Reservations are required for large groups or overnight stays. The lodge is heated with a full kitchen and rental includes hookups for up to eight motor homes. Capacity is limited to 60, but a covered porch is available with room for 30 additional guests.
For reservations and shooting times, call 814-443-3141 or email: info@buffercreeksportingclays.com
---
MLCC Welcomes
Thistledown at Seger House

to the Chamber!

The newest member of the Mountain Laurel Chamber of Commerce, Thistledown at Seger House is a stunning early 20th century mansion turned boutique hotel located just minutes away from Donegal and the PA Turnpike in beautiful downtown Ligonier.

The luxury Inn features eight guest rooms in-house with a ninth in the spacious carriage house. Each room includes a private bathroom. The atmosphere is family friendly, welcoming and private. Guests staying at Thistledown are sure to enjoy the truly luxurious accommodations – crystal chandeliers, fireplaces and walk-in showers, along with modern conveniences such as satellite TV and Wi-Fi internet.

A spacious guest lounge on the first floor features a fireplace and allows an intimate location for small gatherings, a place to work, play board games or cards, or just unwind and watch TV. The second floor landing offers guests complimentary coffee and tea, and wine glasses are available.

Locally owned and maintained by Adam and Michelle Gardner, an extensive amount of pride and care go into everything that makes Thistledown special.

"It's been a terrifically adventurous six years of owning the Inn," said Adam and Michelle. "We love meeting people from all over the world and discovering what brings them to the Laurel Highlands – usually it is one of the many attractions that draws people to our area: Flight 93 Memorial, Fallingwater, Fort Ligonier, hiking, biking and skiing Laurel Mountain. We are all blessed to have the natural resources that we do."

Built by coal baron John Seger in 1915, Thistledown has deep historic roots in Ligonier. Converted into a hospital and then a private health facility, many local residents were born or received medical care inside the red-sandstone mansion. Now beautifully restored, the original stained-glass windows on the upper floors offer a colorful glimpse of the past.

Breakfast is available in the building at Myriam's Table Cafe or any of the other fine establishments in beautiful downtown Ligonier.

Thistledown is handicap accessible with an elevator available and a designated guest room to accommodate their needs.

Guests are welcome to book their stay on the website: www.thistledown.com. Early reservations are recommend for the best availability. For more information, call 724-238-4087.

"With accommodations this cozy, you might just forget you're not home," said Michelle Gardner. "Our historic mansion is a special place where memories are made. A stay at Thistledown isn't just a stay; it's an experience."
---
MLCC Welcomes
Ramada Ligonier

to the Chamber!

Conveniently located at 216 West Loyalhanna Street in the heart of historic Ligonier, the Ramada Ligonier provides guests with a truly welcoming atmosphere during a stay in their home away from home – with convenient amenities and a friendly, knowledgeable staff.

Celebrate the mothers in your life during Ramada Ligonier's Mother's Day Brunch on Sunday, May 12. Seating is from 10 a.m. to 2 p.m. Guests will enjoy carved roast beef and roasted turkey, a waffle and omelet station, breakfast items and pastries, honey almond chicken, English style cod, many delicious sides, a dessert table and more. Cost is $22 for adults, $11 for children 3-10, free for children under two and under. Reservations can be made by calling: 724-238-9545.

Visitors who stay at the Ramada Ligonier will enjoy clean, comfortable accommodations at a fair price. Rooms include complimentary Wi-Fi, flat-¬screen TVs and coffeemakers. Suites add living areas and microwaves, pull-out sofas, mini fridges and several even feature whirlpool tubs.

Ramada Ligonier offers guests a complimentary hot breakfast buffet with eggs, waffles and many other breakfast favorites, and unlimited use of the facility's outdoor, heated pool and fitness room. A business center and meeting room allows working guests the opportunity to conduct business during their stay.

For lunch or dinner options, guests are encouraged to visit the Bistro Restaurant & Bar, a casual bistro-style eatery in the building which serves a menu of American cuisine, including steaks, pasta, fish and chicken dishes, burgers, sandwiches, and homemade pizza. The Bistro also offers a full bar with cocktails, wine, and beers – including some local brews. The Bistro is open seasonally Monday through Saturday beginning at 4:30 p.m.

A variety of package options are available at the Ramada Ligonier – including a Romantic Retreat Package, a Frank Lloyd Wright Fallingwater Tour Package, Wedding Packages and more. Additionally, the facility has banquet space available for weddings and special events.

Ramada Ligonier owners – brothers Pradip and Nilesh Lineswala – are excited to share their love of the area with guests."Nilesh and I agree that people in other areas of the country do not realize how beautiful the Laurel Highlands are," Pradip said. "People need to know about this area and once they come here they will love it like we do. We look forward each day to the ride through the Loyalhanna Gorge. We have had numerous hotels between the two of us and we enjoy meeting people from everywhere and welcoming them to our hotel."

Contact the hospitality team at Ramada Ligonier today at 724-238-9545 to find out more about the best available rates for your stay or event.
---
MLCC Welcomes
Light on the Hill Outreach Church

to the Chamber!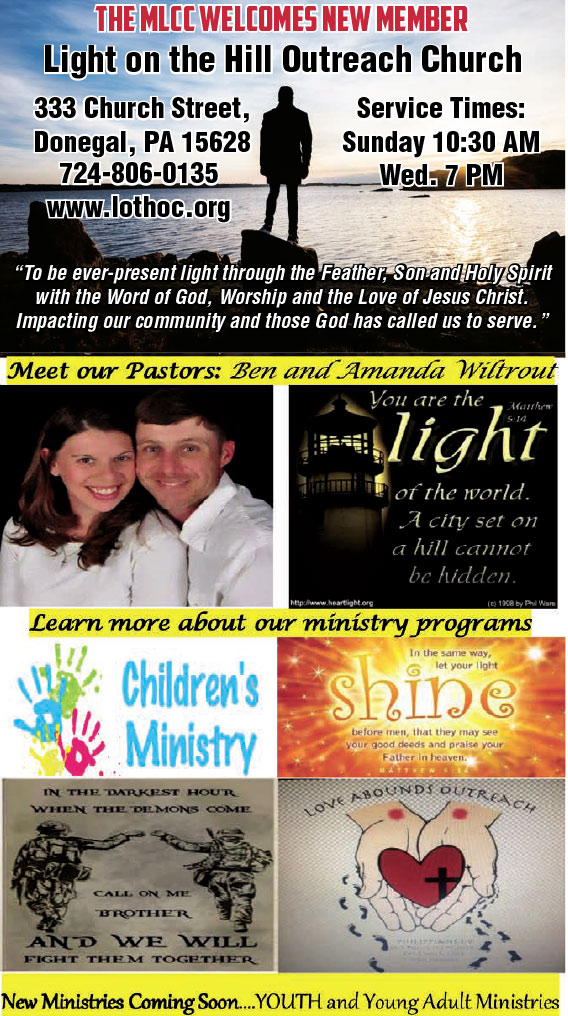 ---
MLCC Welcomes
BattleZone Family Fun Center

to the Chamber!

The first of its kind in the area, BattleZone Family Fun Center is a unique facility that offers quality fun for the whole family!

Located in the Latrobe Route 30 Plaza, the facility offers visitors a variety of exciting, interactive games featuring modified paintball guns. "We wanted to offer an alternative to X-Boxes and video games," said Adam Gardner, who founded BattleZone with brother, Bill Gardner. "Our goal was to provide a fun way for people to get exercise."

The owners of GOG Paintball in Latrobe said people of all ages have been enjoying the facility since its doors opened in January. "BattleZone is for anyone who likes to have fun," Adam said. "We have had corporate team building groups, adult birthday parties, church groups, sports teams, families, and of course lots of kid's birthday parties!" Private rooms are available to party-goers to enjoy cake and pizza after working up an appetite.

Games include: Battle Ball – Dodgeball, which requires participants to collect battle-balls to fire at the opposing team; Battle Ball – Castle Defense, in which players use balls and launchers to eliminate opponents while defending their own base; and Pickleball. Dubbed 'paintball without the paint or paint,' Pickleball players enjoy a version of capture the flag utilizing soft, flexible rubber balls. Unlimited ammunition is provided for all games.

The Gardners hope that BattleZone Latrobe will be the first of several such facilities in the Southwestern Pennsylvania area. "We are looking at a location north of Pittsburgh, but nothing has been finalized as of yet," Adam said.

At $13 per person for one hour or $20 for two hours of play time, BattleZone is affordable fun for the whole family.

Participants are encouraged to book their session prior to the day of play to ensure the fastest check-in process. A full group is not required to participate, as guests are paired up with others to play.

BattleZone Family Fun Zone hours of operation are: Friday 6-9 p.m.; Saturday 10 a.m. – 9 p.m. and Sunday noon – 6 p.m. Additional summer hours are expected to be added. For more information or to make a reservation today, visit their website at www.battlezonelatrobe.com, call (724) 804-5136, or follow them on Facebook.
---
MLCC Welcomes
Coen Markets

to the Chamber!

Coen Markets, Inc. offers one stop shopping for all of your convenience store needs. The Mountain Laurel Chamber of Commerce is pleased to welcome them as a new member.

From fresh roasted 'bean to cup' coffee and breakfast sandwiches to their famous crispy fried chicken, Coen Markets offer a variety of delicious food options from Ruff Creek Markets. The chain serves wholesome, handmade food at over 65 locations in the tristate area.

A regional leader for commercial and residential fuel, Coen Markets carries the top gasoline brands in the industry, including BP, Exxon/Mobil and Sunoco.

A division of parent company Coen Oil Co., the long-time family-owned company's mission is to impress and satisfy guests with every visit.

With the recent acquisition of 38 CoGo's Co. locations, including those in Donegal, Somerset, Norvelt and Greensburg, Coen Markets is planning a new line of hot food options and store upgrades.

"We are embarking on a full rebrand and remodel plan under the Coen umbrella," said the company's marketing manager, Matthew Seibel.  "We are focused on providing the best possible experience for our customers and this includes expanding our food offerings throughout the chain.  Our focus will be centered around our famous friend chicken and the Pittsburgh tradition of CoGo's pepperoni rolls."

Coen Markets' approach will be to expand the new chain and enhance their offerings to guests, which include upgrading the image and functionality of their new locations, according to company CEO, Charles McIlvaine.

McIlvaine said that combining the two local franchises will make for a stronger company.

"We are from this region," he said. "We understand by virtue of our own upbringing the area and the market and the guests because we are one of them."

Coen Markets aims to provide customers with fresh food and fast services.

Since 1923, the Coen company has been committed to making a positive impact in the Laurel Highlands community and beyond.

The expansion of their convenience store retail locations will allow Coen to continue satisfying customers with their quality products and services for many years to come.
---
MLCC Welcomes
Barron's Floral

to the Chamber!

Pick up some Valentine's Day flowers for your sweetie from Barron's Floral, a new member of the Mountain Laurel Chamber of Commerce.

For over forty years, Bernie Barron has been creating flower arrangements for all occasions for residents throughout the Laurel Highlands. The well-known and loved florist, located at 1639 Indian Creek Valley Road in Champion, is open Monday through Friday from 9 a.m. to 4 p.m. and Saturday from 9 a.m. until noon.

Barron's Floral specializes in wedding bouquets and corsages, themed party centerpieces, funeral arrangements and more. Services offered include flower delivery and setup. Bernie enjoys using her creativity to create arrangements for all her customer's special parties and events. "Creating floral arrangements is special to me because my customers are trusting me to help them prepare the perfect arrangement for the occasion, and I want to be sure to get everything just right," said Bernie, who added that working one-on-one with customers is the best part of her job. "I've been around the world, and the people who live right here in the Laurel Highlands are the warmest, kindest and friendliest you'll ever meet. They're absolutely the best. Everybody knows each other and it's a nice neighborhood to live and work."

Bernie said she has shared many tears – both sad and happy – with her customers after forty-two years in business.

"They become like family to me and I treat them that way," she said. "The hardest for me are my grieving customers who are choosing funeral flowers. Their feelings are raw and emotions are high; I just want to make sure they're making the right choices and doing exactly what their loved one would have liked."

Bernie realized her gift of floral arranging after completing a horticulture class. "I believe you are given a gift and sometimes it takes a while to figure out what that gift is, but God gave me one and I'm grateful for that. It's an honor when customers trust me to guide them in fulfilling their floral needs."

She opened her flower shop in 1977 because, at that time, there was no florist on the mountain, she said.

"And then we incorporated Barron's Red Silo in 2015," Bernie said of the event venue located on Calvary Church Road that she operates with brother, Dick. The restored and updated 1931 barn offers a picturesque destination to host a wedding or special event. Patrons will enjoy impeccable service with a beautifully landscaped view at Barron's Red Silo.

Contact Bernie Barron at 724-455-3312 or bernie@lhtot.com to discuss a flower arrangement for your next special occasion from Barron's Floral or to book The Red Silo for an upcoming event.
---
MLCC Welcomes
The Silver Penny

to the Chamber!

The Mountain Laurel Chamber of Commerce is pleased to extend a warm welcome to its newest member, The Silver Penny. The Silver Penny is a vintage home goods and fine used furniture store located at 3919 State Route 31 in Jones Mills.

"I've always had a love of buying and fixing up furniture," said owner Karen Temple, a life-long member of the Laurel Highlands community. "I've always enjoyed collecting unique pieces and giving them new life. It's my passion." Sometimes collectors bring in pieces for her consideration and other items she seeks out herself, Karen said. "Pretty much whatever catches my eye; I'm always looking to include new pieces."

Her unique, one-of-a-kind inventory includes refinished furniture, glassware, collectibles, crockery, wooden boxes and baskets.

Some of Karen's frequent clients are those interested in do-it-yourself projects. "Here at The Silver Penny, customers often seem to find that 'just-right' item to complete their project," she said. "Such as wooden boxes to use as shelving or wooden ladders for blanket racks."

With an ever-changing variety of eclectic items, everyone who visits is sure to find something special.

The Silver Penny has been a fixture in the community for three years, drawing a variety of clientele from local supporters to visitors passing through.

Hours of operation are 11 a.m. to 5 p.m. Thursday through Saturday and noon to 5 p.m. on Sunday. Karen urges anyone who would like to visit after shop hours to call 724-593-2090 to arrange for an appointment.

Visit The Silver Penny on Facebook to see samples of the Karen's work and keep up-to-date on changing inventory.

Karen will be offering great deals for the holiday season. Shoppers looking for that unique piece of furniture or to find the perfect gift for someone special are sure to leave satisfied.

"Shopping in the Laurel Highlands is a great way to support local businesses and to find those one-of-a-kind pieces that you can't find just anywhere," Karen said. "I hope to see everyone come out this holiday season."
---
MLCC Welcomes
K2 Engineering, Inc.

to the Chamber!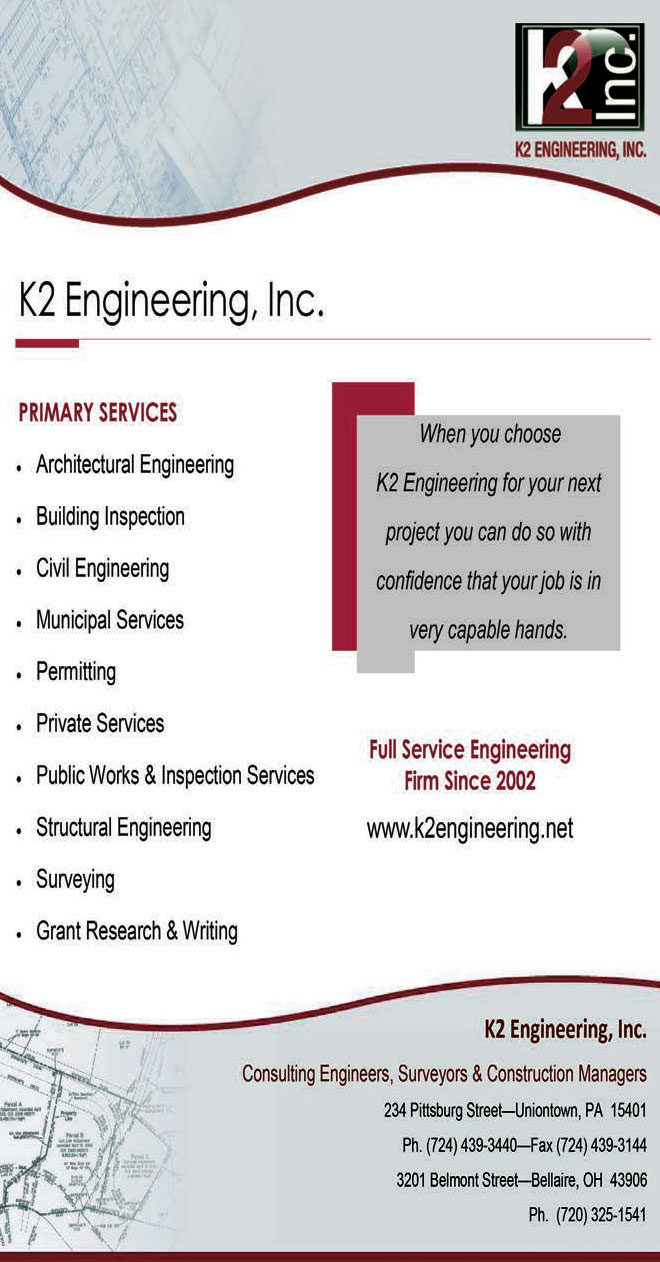 ---
MLCC Welcomes
Donna Tidwell with Vernon Realty Services

to the Chamber!

The Mountain Laurel Chamber of Commerce warmly welcomes new member Donna Tidwell, a realtor representing Vernon Realty Services in Ligonier.

"My commitment is to provide the most comprehensive, professional and caring service available in real estate," Donna said. "Everyone deserves an excellent real estate experience."

As an agent with over thirty-four years of experience, Donna Tidwell has worked with thousands of clients throughout Westmoreland County and beyond. "Interacting with my clients means so much to me," she said. "Seeing their delight and how happy they are when we find their dream home is priceless."

Donna excels at assisting her clients with all of their buying and selling needs. While she specializes in residential real estate, she is pleased to also offer her expertise in obtaining income properties and vacant land. With her thorough attention to detail and high turnover rate, Donna's services are often sought out by experienced investors and house flippers.

Donna recognizes the importance of strong staging and design choices and has a sharp eye for detail. As an agent, she works tirelessly, getting homeowners the most for their real estate properties and helping individuals and families find the perfect home.

Buying or selling a real estate property is one of the most important transactions in one's life and Donna is a professional who has the experience, expertise and integrity to make the transaction as pleasurable and stress-free as possible.

Donna is a graduate of the Realtor Institute, a certified residential specialist and is certified in the National Association of Realtor's e-PRO program. Contact her today at donna@donnasoldit.com, 724-244-0470, or www.DonnaSoldIt.com to schedule an appointment.

"I bring a wealth of knowledge and expertise about buying and selling real estate," Donna said. "It's not the same everywhere, you need someone you can trust for up-to-date information. I am committed to working hard and helping my clients every step of the way."
---
MLCC Welcomes
Trenthouse Inn Marketplace and Delicatessen Bed and Breakfast

to the Chamber!

The Trenthouse Inn was purchased by MaryAnn and Julianne Brown, a mother daughter team, in 2006. They have spent the last 12 years completely remodeling this 134-year-old historic landmark. Located at 2008 Copper Kettle Highway in Rockwood, the Trenthouse Inn is surrounded by 4,000 acres of picturesque state park grounds and is the ideal location for a cozy weekend getaway for two in the heart of the Laurel Highlands or for large group events.

The Trenthouse Inn offers catering, weddings, rehearsal dinners and private parties.

Visitors are sure to feel right at home while enjoying rustic, old world style in both their personal rooms and the common areas at the Trenthouse Inn, which include a parlor, library, formal dining room, and kitchen. Additional amenities include free parking, air conditioning, wireless internet, Direct TV, and a complimentary gourmet breakfast. Outside features include a lovely patio with a bar and a fire pit surrounded by a charming garden.

Only four miles from Seven Springs Mountain Resort and Hidden Valley Four Season Resort, the Inn is also conveniently located near Laurel Hill State Park, Ohiopyle, Falling Water and other exciting Laurel Highlands locations. An abundance of year-round activities offered throughout the area include whitewater rafting, hiking, biking, fishing, ATV trails, golfing in the summer and cross country skiing, snowshoeing and snowmobiling in the winter, festivals, wineries, antiquing and more.

The Trenthouse Inn is open for breakfast and lunch from 7:30 a.m. – 3 p.m. on Thursdays through Sundays and is well-known for its gourmet menu with including stuffed French toast, homemade potato and macaroni salads. Throughout the year several special dinners, such as New Year's Eve, Valentine's Day and Octoberfest, are hosted where guests are invited to bring their own alcoholic beverages to enjoy. "I love the opportunity to meet people from all over the world and cater to their needs," said MaryAnn Brown, "I really enjoy making others happy."

Brown has welcomed visitors from as far as France, Japan and Africa, but some of her favorite visitors are the locals who 'are like family' that come in regularly to enjoy her famously prepared breakfasts.

Call 814-352-8222 to stay and enjoy the best breakfast on the mountain.