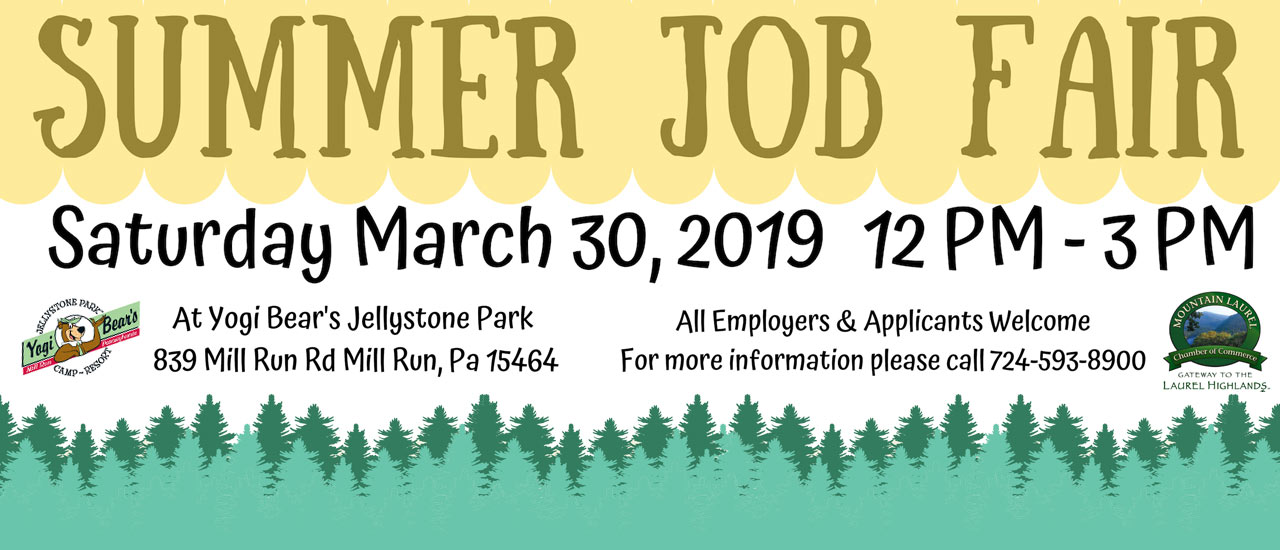 Spring is known for new beginnings and one of the best ways to turn over a new leaf is with a new job. Spending so many hours of the day at work, it is important to choose a job that you feel positive about and enjoy being at.
What better way to learn about summer employment job opportunities than the upcoming Summer Employment Job Fair being co-sponsored by the Mountain Laurel Chamber of Commerce and Yogi Bear's Jellystone Park.
The Summer Employment Job Fair, open to all local employers and interested applicants, is slated for 12 to 3 p.m. on March 30 at Yogi Bear's Jellystone Park. Organizers hope local residents and visitors will take advantage of the opportunity to learn about the variety of exciting employment opportunities available throughout the Laurel Highlands.
"We are excited to participate in the Summer Employment Job Fair," said Kris Enberg, MLCC Executive Director. "This is one of the many projects the MLCC has planned for this year to benefit our local communities."
For companies looking to hire quality employees, and individuals seeking to broaden their employment experience, a local job fair is the ideal way to meet the needs of both employers and potential employees. The event offers the opportunity to touch base with dozens of potential employers and learn about the positions offered within their companies. Job fair attendees will have the opportunity to network, which builds relationships that are critical for success. It is the ideal opportunity to ask questions about positions and internships available and learn about job requirements.
Experts advise those who attend a job fair to wear professional interview attire to make a good first impression, introduce themselves with a strong handshake and prepare an introductory pitch as to why they are the perfect candidate for the job (emphasizing experience and accomplishments). Making a positive first impression will greatly increase the likelihood of hearing back from potential employers.
Additional hints and tips relating to job fair success include knowing a bit about the employers who will be attending the job fair, and having plenty of resumes on hand.
Now is the ideal time to spring into a job you truly desire!