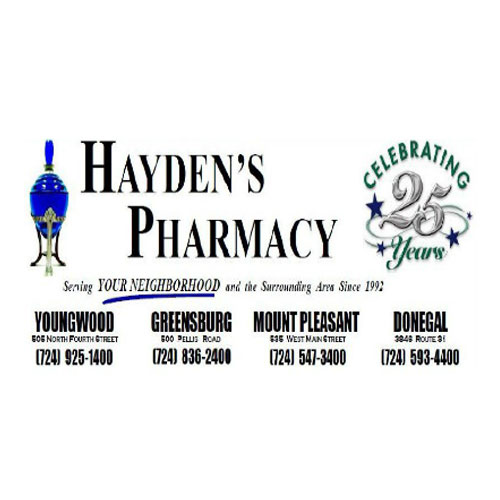 Hayden's Pharmacy is located  in the Shaker Commons building located on Route 31, 2 miles East of the Pennsylvania Turnpike.  Hayden's Pharmacy facility brings a complete pharmacy healthcare provider to the Laurel Highlands area – they accept all major and state insurance plans, offer competitive retail and mail-order prescription prices, a complete healthcare selection for your health, nutritional, and beauty needs, and the traditional pharmacy services often forgot by other chain drug stores.  This location has clinical immunization services and disease state management to help the members of our Donegal community live longer, healthier lives!
Hayden's Pharmacy's  "Promise to You"
"At Hayden's Pharmacy, we pride ourselves on customer service, convenience, and dedication to the local residents that we serve. Our pharmacists are always available to discuss your medication and  healthcare questions with you. Hayden's Pharmacy customers can be assured that quality and tradition of personalized pharmacy is the foundation of our business!"
– Ed Christofano, R.Ph.
Hours :   9:00am-6:00pm Monday – Friday,  9:00am-3:00pm Saturday,  Closed Sundays and Holidays


Visit Website
Follow on Facebook